COVID-19 cases in Pangasinan surge anew
723 NEW ACTIVE CASES
EVEN without any official confirmation that community transmission of the Delta variant is happening in Pangasinan, COVID-19 cases pole-vaulted anew last week chalking up 16,466 cases, with 14,843 recovered while 454 had died.
The increase was seen on account of 723 more new confirmed cases logged for the period August 13-19 while there were only 483 cases that recovered, effectively raising the number of active cases to 1,169, considered an all- time high in Pangasinan since the start of the pandemic.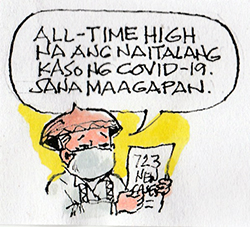 The highest surge of cases occurred on August 17 when 146 new cases were recorded, followed by 136 on August 13 and 130 on August 18.
But Pangasinan is not the only place in Region 1 where COVID-19 cases are rising. A bigger surge of cases was noted in Ilocos Norte while cases are also slowly rising in La Union. It is in Ilocos Sur where the cases are going down.
The Provincial Health Office (PHO) confirmed that the bed utilization rate of hospitals in Pangasinan and in Dagupan City has reached their critical level on account of the big number of COVID-19 being admitted by government and private health care facilities.
Meanwhile, three cases of Delta variants in Pangasinan have been confirmed by the Department of Health Center for Health Development 1.
Corollary to this, Wilson Chua, a data analytic from Dagupan now based in Singapore, recently wrote in his Facebook account that based on data he sourced from various agencies of the government, travels of people and vehicles to Pangasinan from places where big number of Delta cases were found had not slowed down despite lockdowns and are still continuing.
Showing some graphic indicators, Chua said the trend will not be good for Pangasinan as these people and vehicles may carry the virus into the province and wreak havoc to its people.
Presently, Calasiao leads 48 towns and cities of Pangasinan in the number of active COVID-19 cases at 94, followed by San Carlos City (88), Urdaneta City (74), Malasiqui (53), Sison (53), Villasis (48), Lingayen (47), Binmaley (38), Pozorrubio (38)), Bugallon (36), Sta. Barbara (35), and Mangaldan (34). (Leonardo Micua)
Share your Comments or Reactions
comments
Powered by Facebook Comments