Surge in COVID-19 cases continues
689 NEW CASES, 14 DEATHS
COVID-19 cases continue to surge in Pangasinan during the past one week.
The Provincial Health Office (PHO) logged 689 new positive cases and 14 deaths from July 2 to 8. Only the timely recovery of 584 patients softened the impact on the provincial government's efforts.
The new surge raised the number of active cases that are still confined and isolated in hospitals and LGU-managed facilities as of July 8 to 935, from 844 last July 1 but health officials assured that there is no cause for alarm as the increased cases remain at manageable level and could be effectively contained.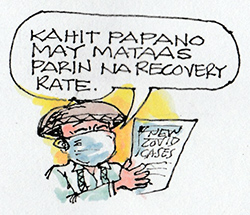 Based on the data of the PHO, there were noticeable spikes in cases in the province on July 2, 3, 5 and 8 but these briefly tapered down on July 6 when there were 103 fresh cases but 135 cases recovered; and, on July 7 when there were 59 new cases while there were 71 recoveries.
The rest of the week showed more new cases than recoveries:  July 2 (140 new cases vs. 93 recoveries), July 3 (88 new cases vs. 55 recoveries), July 4 (71 new cases vs. 29 recoveries), July 5 (140 new cases vs. 115 recoveries).
Analyzing the figures, officials believe it was the good treatment management protocol applied by local health care professionals that resulted in big number of recoveries of patients in Pangasinan.
As of July 8, the overall total confirmed cases in the province now ballooned to 12,676, plus 424 deaths, while there were 11,378 that recovered.
As gleaned from the monitoring report, San Carlos City is back on top of the COVID-19 watchlist of the PHPO with 88 cases, followed by Malasiqui (77), Dagupan City (56), Urdaneta City (47), Mangatarem (42), Lingayen (38), Sison (36), Villasis (33), Sta. Barbara (32) and Mangaldan (28).
Meanwhile, the government confirmed that the more transmissible Delta COVID -19 variant from India has not gained foothold in any part of the province although the tamer Alpha and Beta variants from United Kingdom and South Africa, respectively, were already detected on some returning overseas Filipinos who eventually recovered and are now in excellent health.  (Leonardo Micua)
Share your Comments or Reactions
comments
Powered by Facebook Comments