IATF-LTFRB terms delay Pangasinan-Manila bus trips
MANDATORY USE OF BOCAUE TERMINAL
THE Sangguniang Panlalawigan (SP) passed a resolution urging the National Inter-Agency Task Force for the Management of Emerging Infectious Diseases and the Land Transportation Franchising and Regulatory Board (LTFRB) to lift the mandatory usage of the North Luzon Express Terminal (NLET) by buses plying the routes from Pangasinan to Metro Manila and vice versa.
The resolution filed by Fourth District Board Member Jeremy Agerico Rosario, seconded by Board Member Nestor Reyes, and unanimously approved noted the strong opposition of bus companies to use the NLET.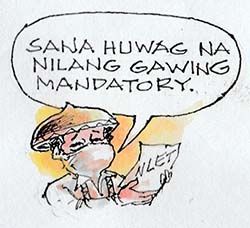 The bus companies cited the writ of injunction granted in their favor by a regional trial court in Quezon City as one of its opposition to the rule being imposed by the IATF.
This issue was raised anew during the Question Hour in aid of legislation on July 12 on the report that not a single inter-regional bus commuting passengers from Pangasinan to Metro Manila and vice versa has not operating despite the approval by LTFRB of their special permits to operate in old routes several months back.
Atty. Annabel Marzan-Nullar, chief transportation development officer of LTFRB Region 1, told the SP that 706 units of buses have been allowed to ply several routes in Pangasinan and for these buses to end at their respective private term in Metro Manila per LTFRB Memorandum Circular Nos, 2021-009 and MC No. 2021-0033.
However, she said IATF Resolution No. 101 s. of 2021 directed the buses not to enter their private terminals located in Metro Manila but to terminate or start at the NLET in Bocaue, Bulacan.
"Judging from our interview with different bus operators, the very reason why they still do not ply their routes is they refuse to use the NLET as their end point as well as starting point"," Nullar said, adding that LTFRB  knows that in entering NLET, the bus companies
will incur additional expenses.
She added that all approved routes are on point to point basis and no bus will be allowed to pick and drop passengers along the way.
According to Nullar, the previous rule is that buses can load only 50 percent of their usual capacity or one seat apart per passenger but under the revised rule, passengers can now sit beside each other provided they are separated by a plastic barrier.
She added that buses are no longer required to obtain special permit to operate but simply a QR code that can be downloaded from the website of LTFRB, which can be printed in a short bond paper to be attached to the windshield of the buses.
However, Alexander Briones, operations manager of  Victory Liner, speaking for all bus companies operating in Pangasinan, interjected that before a QR coded can be issued by LTFRB, bus companies are required to sign an affidavit of undertaking that they would use the NLET in Bocaue, Bulacan, which runs counter to a current injunction order of the  RTC Branch 223 in Quezon City stating that bus companies can use their respective terminals.
He also cited the plight of passengers who will be burdened further by the NLET  requirement because NLET is 30 kilometers away from Monumento and commuter buses do not have bottom compartments for heavy loads being carried by passengers to and from the provinces.
He added, to be able to bring their big boxes commuters from Manila will have no choice but to hire vans that charge them P1,000 to P1,500 per head.
On the part of the bus companies, NLET will charge bus companies P100,000 to P150,000 per month per slot of the terminal (one slot, one route), a big drain on their revenues. (It is estimated that one bus company will be paying at least P500,000 a month)
Nullar however admitted that buses that were issued permits before the promulgation of IATF Resolution. No. 101, series of 2021 from Ilocos Norte and Baguio are not passing though NLET and are unloading their passengers in their respective terminals in Metro Manila.
Atty. Geraldine Baniqued, provincial legal officer, said the admission of LTFRB as well as the bus companies themselves belies accusation of netizens in social media blaming the provincial government for the delay in acting on the request of bus companies to resume their
Pangasinan to Manila routes.
She said Governor Amado Espino III had promptly endorsed the requests of bus operators to resume their trips  as well as consulted with chief executives of component LGUs on the matter. (Leonardo Micua)
Share your Comments or Reactions
comments
Powered by Facebook Comments