Vaccination suspended till 4,200 doses arrived
UPDATE: DAGUPAN VACCINE ROLLOUT
A fresh batch of 4,000 doses arrived in the city on June 10 to the relief of the Dagupan Vaccination Team.
While the city slept last week, many were unaware that the vaccination rollout for the first dose was suspended for a couple of days because the Dagupan Vaccination Team had run out of supply. Only the supply for the second dose was available.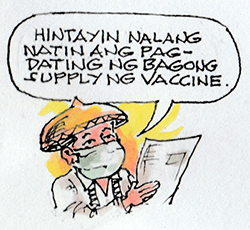 The suspension was bared by Dr. Dalvie Casilang, head of the Dagupan Vaccination Team, during the committee hearing in the morning of June 10 conducted by the committee on health chaired by Councilor Dennis Canto that discussed a resolution authorizing Mayor Brian Lim to sign a Memorandum of Agreement with private companies for the roll out of vaccines for their employees' use.
The issue surfaced when Councilor Michael Fernandez asked Casilang why he did not get any reply when he registered online for vaccination being qualified under the priority A-3, a group (persons with co-morbidities).
Casilang told Fernandez: "We no longer have the first dose of the vaccine in Dagupan City, that's why our invitation for vaccinees is also on hold. We do not want people going to the Astrodome and yet they do not get vaccinated."
He said until the new supply arrives, only those returning for the second dose could be vaccinated but he expressed optimism that with the arrival of the Sinovac vaccines in Manila, the inoculation of the first dose would resume.
As of June 9, no supply of vaccines from the Department of Health-Center for Health Development 1 arrived in the city.
Casilang said if no new supply arrives, an official update on the status of the vaccination rollout would be issued to avoid confusion and misunderstanding on the activities inside the Dagupan Astrodome.
Meanwhile, when Fernandez asked if private companies can employ their own doctors and nurses in administering their privately-procured vaccines, Casilang said all vaccines must be administered by the city government as stipulated in the tripartite agreement among the national government (Department of Health), the vaccine manufacturers and the private companies.
Casilang told the city council that Victory Liner is one of the private companies that manifested its desire to enter into a MOA with the Dagupan City government for the roll out of vaccines that it purchased for use by its employees and also to donate some of the vaccines to the city.
The Filipino-Chinese Chamber of Commerce (FCCI) has also indicated its willingness to purchase its own but no further specifics have been forwarded.
Casilang said that once the privately procured vaccines of private companies arrive, the city's vaccination team will administer the vaccine to their employees on weekends in order not to interfere with the vaccination of categories A-1, A-2 , A-3 and A-4  (essential workers in public and private sectors as well as informal sectors). (Leonardo Micua)
Share your Comments or Reactions
comments
Powered by Facebook Comments