Capitol's 1k employees still refuse vaccination
PHO CONFIRMS
ABOUT 1,000 employees of the provincial capitol in Lingayen said  "no" to vaccination or are having second thoughts about being vaccinated.
This was bared by Dr. Anna de Guzman, provincial Health officer, in a talk on June 1 before the Sangguniang Panlalawigan (SP) during its virtual session.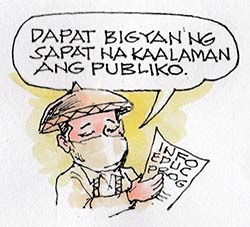 "Unfortunately, based on the survey we conducted, there are about 1,000 employees who did not like to be vaccinated," De Guzman said, conceding that "this is our biggest challenge right now".
The hesitancy of the 1,000 employees to be inoculated may derail the target of the Provincial Health Office (PHO) to vaccinate 90 to 95 percent of the provincial government employees.
She said she respects the decision of these employees who do not want to get vaccinated because getting vaccination is voluntary, adding that others can take their slots but she clarified that only those belonging to A-2 or senior citizens and A-3 or persons with co-morbidities can qualify.
She said they will intensify the information education program in the provincial capitol in order that the 1,000 may finally be convinced to be vaccinated.
Meanwhile, De Guzman said that as of May 31, 81,600 persons had been vaccinated in the province, representing only one percent of the target 1.8M.
She also reported that to date, almost 93 percent of the personnel of the 14 hospitals operated by the province of Pangasinan were already inoculated.
De Guzman said vaccination is ongoing at the provincial capitol for persons belonging to the category of A-2 or senior citizens and persons with co-morbidities (A-3). (Leonardo Micua)
Share your Comments or Reactions
comments
Powered by Facebook Comments