Pangasinan's COVID cases slow down; 4th wave feared
THE total number of active COVID-19 cases in Pangasinan further trimmed down to 665 as of May 27, from 756 a week since May 20 but this could be temporary because of fears that the fourth wave of the disease might hit the province soon.
Attributed for the downtrend was the bigger number of recovered patients recorded for the week compared to the number of new confirmed cases logged by the Provincial Health Office (PHO).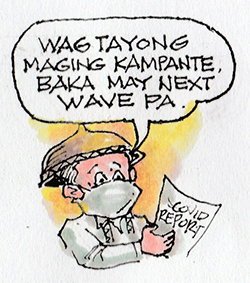 As gleaned from the one-week monitoring of PHO, there were 756 patients that recovered from COVID-19 from May 21 to 27 while the number of new confirmed cases logged over the same period was only 665 or a margin of 91. But 13 persons died from the disease.
It was only the second week in a row when Pangasinan registered more recoveries than the number of newly confirmed cases reported, and this possibly could be an indicator that COVID-19 is now on a downtrend after months of surge.
Also, the Department of Health (DOH) reported lower new cases COVID-19 cases in the National Capital Region Plus with the observation that the disease seemed to have shifted to other provinces outside that bubble, excluding Pangasinan.
But data analyst Wilson Chua, chief executive officer of the Dagupan-based Bitstop, recently warned that a fourth wave of the disease is up in the horizon in Pangasinan, particularly in San Carlos, Dagupan and Urdaneta cities.
In his latest post in his own social media account, Chua posted a chart indicative of a possible new surge, warning his province mates not to relax just because the COVID-19 cases are going down.
"I pray that the cycle does not hold. But what do we have to lose by taking advance preparations?" Chua said. "In addition quarantine % is down!" he added.
Pangasinan registered its biggest recoveries on May 26 when 169 patients were discharged from their hospital confinement and isolation. There were also 88 patients who recovered on May 27; 59 on May 25; 74 on May 24; 33 on May 23; 57 on May22 and 50 on May 21.
The total number of recoveries has risen to 8,467 while the 665 new confirmed cases recorded last week raised the number of confirmed cases in Pangasinan to a 9,075.
San Carlos City remained on top of the COVID-19 watch list of the PHO with 63 active cases, followed by Dagupan City (55), Urdaneta City (43), Lingayen (32), Asingan (27), Villasis (27), Calasiao (25), Bayambang (22 ), Mangaldan (22 ), Rosales (21), Tayug (20), Binalonan (19), Sta. Barbara (19), Malasiqui (15), Sual (14), San Fabian (13), Umingan (13),  Binmaley (12), Bugallon (12), Sta Maria (12). (Leonardo Micua)
Share your Comments or Reactions
comments
Powered by Facebook Comments