SP seeks IATF policy on non-Pangasinan COVID patients
AS NCR+ CASES CONTINUE TO SURGE
REACTING to the banner headline of the SUNDAY PUNCH'S April 11 issue that NCR COVID-19 patients are already being confined in Dagupan City hospitals, Second District Board Member Von Mark Mendoza asked if the provincial Inter-Agency Task Force for the Management of Emerging Infectious Diseases (IATF-EID) has a policy guideline with regards to the acceptance by hospitals of  COVID-19 patients from outside Pangasinan.
Mendoza said during the virtual session of the Sangguniang Panlalawigan on April 12 that
The PUNCH headline pointed non-Pangasinan COVID-19 patients being confined in Dagupan.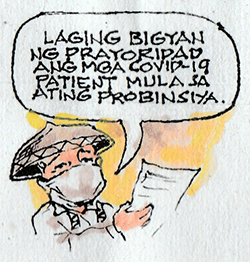 Although it is a non-issue in Pangasinan, whatever happens in Dagupan will affect Pangasinan, Mendoza said. "We should know if there is a policy guideline from our own IATF. If there is none, we should have one".
Toward the end, Mendoza, SP minority floor leader, sought to sponsor a formal resolution asking the provincial IATF to clarify its position on the issue in the next session of the SP.
Mendoza's manifestation, however, elicited a retort from Fourth District Board Member Jeremy Agerico Rosario, SP chair on the committee on health and a medical doctor by profession. "Doctors and even hospitals for that matter, or facilities, are duty bound to treat everyone regardless of where they are coming from."
He said prohibiting COVID-19 patients from outside Pangasinan from seeking help from local hospitals "might give a wrong signal or leave a bad precedent to people from other areas and even from Metro Manila that we are a way selfish for prioritizing our own people".
"We need to approach this issue wholly as a nation. Prioritizing our own people in our hospitals might even foment feud among provinces, and provinces versus Metro Manila," Rosario stressed.
But Mendoza clarified that nowhere in his manifestation did he mention or suggest that local hospitals should not accept patients from outside Pangasinan.
He said he only wants to make sure if there is a policy guideline from the provincial
IATF for the admission of non-residents afflicted with COVID-19 in Pangasinan's hospital, public and private, in view of the fact that like in NCR+ bubble, COVID cases in Pangasinan are also rising.
Rosario apologized for misinterpreting Mendoza's  manifestation.
Meanwhile, the Provincial Health Office (PHO) assured that the 14 provincial hospitals operated by the provincial government will always give priority to COVID-19 patients from the province. (Leonardo Micua)
Share your Comments or Reactions
comments
Powered by Facebook Comments