Pangasinan: 430 new cases, 354 recoveries, 12 deaths
COVID UPDATE AS OF APR 22
THE Provincial Health Office (PHO) reported 430 new confirmed cases in the province for the seven-day period (April 16 – 22) and a high rate of recoveries at 354, but 12 deaths were registered.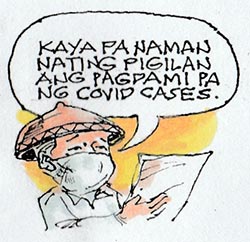 The update from the Provincial Health Office (PHO) brought the number of active cases in the province to 606, from the 540 active cases recorded on April 15.
In summary, total number of cases in Pangasinan since the contagion started is 7,005, while the recovered cases registered is 6,105. Total number of fatalities: 294.
Out of the 7,005 cases, 1,3336 cases were logged in Dagupan City, an independent component city of the province.
Records show that the biggest number of new confirmed cases was recorded on April 17 when 80 COVID-19 positives were hospitalized and isolated.
Meanwhile, the highest number of recoveries on a single day was 91, on April 20.
Provincial officials maintain that the COVID-19 cases in Pangasinan remain at manageable levels as they continuously appeal to the public to observe all the safety and health protocols established by authorities at all times. (Leonardo Micua)
Share your Comments or Reactions
comments
Powered by Facebook Comments