NCR COVID-19 patients now in Dagupan — Dr. Rivera
IN spite of warning from the Region's DOH that COVID-19 positives from the National Capital Region (NCR+) cannot enter region's hospitals bubble without permission from the local IATFs, and despite tight security by the police on all border control points of Pangasinan, many were already accommodated in big hospitals in Dagupan City and Pangasinan.
This was revealed by Dr. Ophelia Rivera, Dagupan's COVID -10 focal person told virtual session of the Sangguniang Panlungsod (SP) on April 6 that COVID-19 positives from Quezon City, Makati and Manila are already confined in big hospitals in Dagupan, including the Region 1 Medical  Center (R1MC).
Dr. Rivera clarified that the number of COVID-19 positives from the NCR+ now in Dagupan were not included in the 77 active cases registered in the city and confined in hospitals and the LGU isolation centers as of  April 6 since they've been tagged in places where they came from.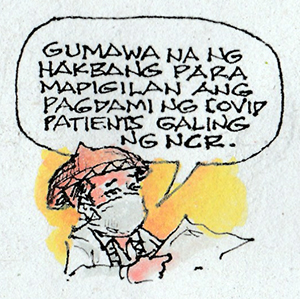 She said some of cases may have been referred to tertiary hospitals in Dagupan and R1MC by the Department of Health Operations Center and others just transacted with private hospitals for their admission.
According to Rivera, she received 60 calls from patients from NCR requesting that they be transferred to Dagupan and be quarantined in the LGU facilities but they were turned down as the city's isolation facilities cater only to mild asymptomatic patients from Dagupan.
"I am aware some of our private hospitals and even our R1MC have already accepted patients coming from NCR," Rivera told the SP.
Rivera said that those who have to be turned away were asked to call DOH operations center to coordinate with these hospitals, including the Pangasinan Provincial Hospitals.
Dagupan has only three isolation facilities located at Arizona Inn which has 11 rooms, (3-4 in a room) the City Engineering Compound which has 20 rooms but with a bed capacity of from 30 to 40 and at the Waste Management Division in Bonuan Binloc which can allocate 20 beds but has not been opened.
According to Rivera, the city's isolation facilities cannot accommodate mild, asymptomatic patients with co-morbidities and elderly, especially those 80 years and above, and are referred to hospitals for admission.
She said the pressure and the surge from the NCR+ is already palpable. "If the capacity of all local public and private hospitals is already filled up, what will happen to our own cases in Dagupan and Pangasinan, where shall will place them? "
But despite the fact that the COVID-19 positives from the NCR+ are already confined in various hospitals of Dagupan, Rivera said there are no indications that the more transmittable COVID-19 UK variants already entered the city.
In the same virtual session, Dr. Jovie Villaflor of the Villaflor Doctors Memorial Hospital, expressed concern that the 40 beds allocated for COVID-19 patients are already 100 percent occupied and the surge of cases is just about to be felt in the province.
Villaflor told the SP earlier that VDMH received 103 calls from patients involving families from other regions and were only able to admit 63 patients and wondered where the 40 other patients went. "They are a family, once we admit one (member), we must admit them all," he added.
At the same time, Villaflor expressed fear that if no concrete steps are taken to control and manage the surge, what the NCR plus bubble has experienced during the last two weeks may also happen "to us."
He suggested a wide range of measures, including appealing to Governor Amado Espino III to order stricter border control to really ensure that the restrictions for travelers from NCR plus bubbles, unless for the essential ones, will be enforced to the letter.
Meanwhile, Dr. Arnel Gazmen, chief of the medical professional staff of R1MC, also told the Dagupan SP that while many private hospitals can turn away COVID-19 patients, R1MC cannot shirked away from such a responsibility being a government hospital.
As a government hospital, he said, R1MC, is catering to poor patients or those who cannot afford to go to private hospitals.
As to the reported influx of NCR plus patients into Dagupan, Gazmen, "politicians have been calling us asking for our beds that are available."
R1MC has allotted 120 beds for symptomatic moderate and severe COVID-19 cases and at present has only more than 70 patients confined, said Gazmen.
Meanwhile. Dr. Max Escano of the Medical City Pangasinan, said they are ready to allot all their beds for COVID-19 patients but are in dire shortage of personnel, especially nurses, who will take care of the patients. (Leonardo Micua)
Share your Comments or Reactions
comments
Powered by Facebook Comments