Aqua Farming Project, soon to rise in Pangasinan
CAPITOL NEWS
THE province of Pangasinan will soon become leader in aqua-agri products production, processing and export worldwide through the soon-to-rise Aqua Farming Project.
To make this possible, Governor Amado "Pogi" I. Espino III earlier inked a Memorandum of Understating (MOU) with Tokushima Auction Market (TAM), a Japanese government-owned corporation for the development of the said aqua farming venture in Pangasinan.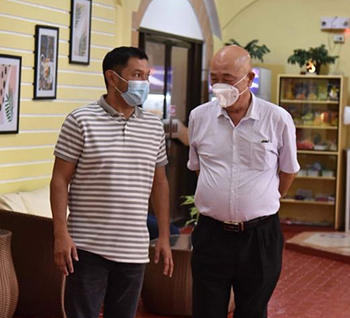 In a meeting on August 31 held at the Capitol Resort Hotel, the Japanese investors through its corporate arm Global Trade Venture Company led by Sato Zauo presented the Aqua Park Facility that will pave the way for the development of aqua farming project.
To jumpstart this, Tokushima Auction Market pledged to invest over $1-billion USD for the large aqua farming project in the waters of Pangasinan that aims to grow and harvest in fish cages a variety of fish, such as: bangus, tuna, mahi-mahi, sapsap, and others.
According to Zauo, the aqua farming project has six components, namely: Fish Processing Plant, Medical Care Center, Digital Satellite Concession, Aqua Marine Park, AI Park and Agricultural Park.
It was also noted that a runway which is another integral component of the aqua farming project in Pangasinan will also be established for logistics and will play role for the transportation of aqua-agri products of the province worldwide.
Governor Pogi, who also graced the meeting, thanked the Japanese group for extending support to the province of Pangasinan.
Among the facilities to be set up for the fish farming project in Pangasinan are, as follows: floating cages, office buildings, artificial intelligence center, dormitories, communication and data base center, feed warehouse, fish processing plants, cold storage, solid and wastewater treatment facility, medical center and land development.
Also present during the meeting were some department heads of the provincial government led by Provincial Administrator Nimrod S. Camba, representatives from Bureau of Fisheries and Aquatic Resources (BFAR), Department of Environment and Natural Resources (DENR) and other stakeholders. /Shiella Mae C. De Guzman
Share your Comments or Reactions
comments
Powered by Facebook Comments