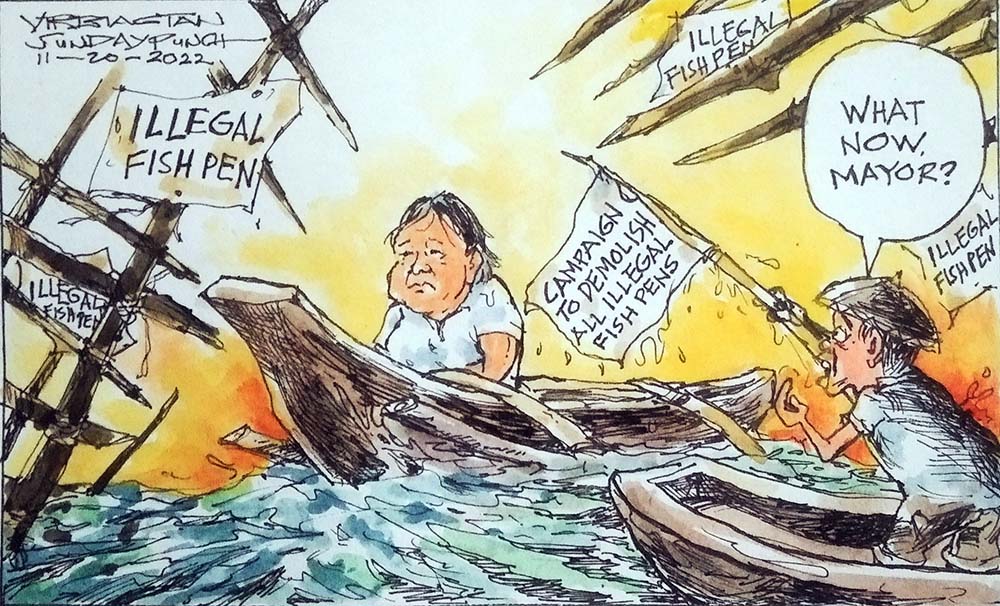 The Belen Fernandez administration and illegal fish pens
DURING the campaign period, when then former Mayor Belen Fernandez was seeking to retake the post she surprisingly lost in 2019, she anchored her campaign promise on a firm pledge to rid the city government of corruption and to make officials that squandered the city's resources that served under Mayor Brian Lim accountable.
She said her first marching order once elected would be to collar the corrupt city officials and business men and file cases against them, citing in particular the mushrooming of illegal fish pens overnight by business friends and allies of Mr. Lim.
However, she appears to be dragging her feet, demolishing only 15 illegal fish pens out of targeted 1,460 illegal operations after 140 days in office. Worse, she has not shown any indication that the city government will file cases against the owners of the illegal fish pens because the list of owners remains a city hall secret.
In fact, the mayor has allowed the illegal operators more time to opt for voluntary demolition after they have completed their harvests. Translation: The violators are being given more time to continue to earn more after three years of continued violation of the fishery ordinance, they who never paid a single centavo to the city government after polluting the city's rivers.
Yet, the regular delivery and unloading of commercial feeds along the Jose De Venecia Highway, intended for illegal fish pens in the city's island barangays indicates that many of the operators are not about to end their illegal operations under her administration. Why?
It will be recalled that Ms. Fernandez adopted the same policy during her first term as mayor in 2017. No violators were known to have been charged and instead, were also given the chance to harvest before the Bantay Ilog proceeded to demolish the illegal structures at the city government's expense.
So, to the dismay of city residents, the same kid-glove treatment is being seen again despite her campaign promise to demolish all fish pens at will on her first day in office, then file charges against the city officials and the violators. Yet, she has not even mentioned about a possible case against former Mayor Brian Lim, the accountable city official behind the proliferation of the illegal fish pens.  Not even the amoral businessmen-fish pen owners.
Will she or won't she ever make city officials accountable for criminal acts in the interest of good governance and public service? So far, her actions say she won't. We hope to be proven wrong.
Share your Comments or Reactions
comments
Powered by Facebook Comments