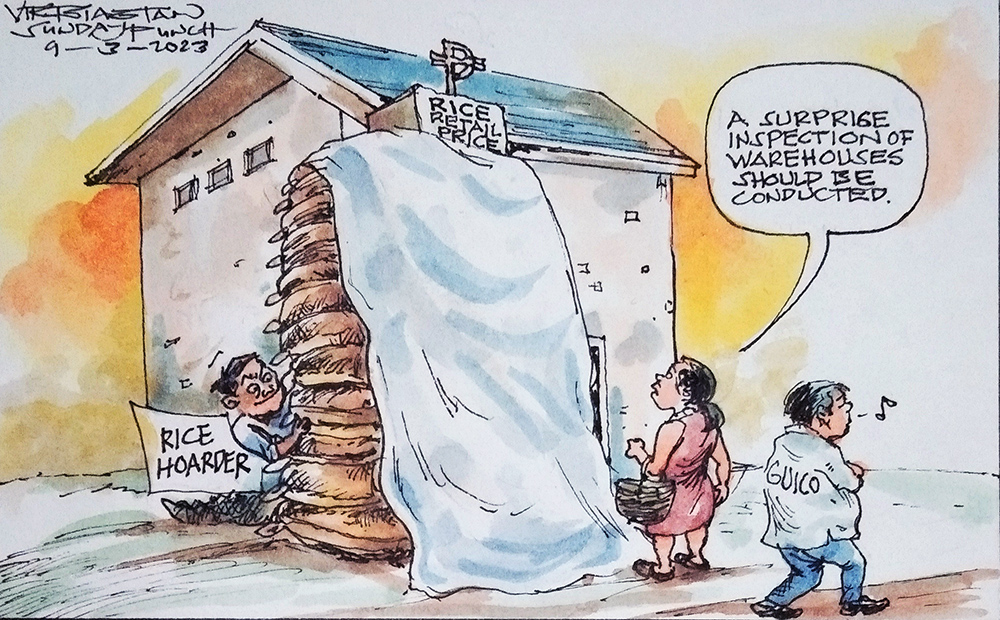 Still no concern over rice crisis
THE discovery of 154,000 bags of suspected smuggled rice in Bulacan last week is a sure indicator that the declared war with smugglers and hoarders of rice is far from over. In fact, it has not started notwithstanding the President's brave words – Your days are numbered."
That successful raid should be a wake-up call for the Guico administration that has not shown any interest nor concern about the continued and unprecedented spiraling of price of rice in our markets, that completely got out of control.
This continued indifference of the Guico administration to any crisis in the country, this time a rice crisis, Pangasinan despite it being a major rice producer, appears to be the norm. Remember when PDEA discovered the P2.3 billion shabu packaging and distribution center in Pozorrubio, the governor's hometown neighbor, and a part of the district that he once represented in the House of Representatives? There was absolutely nothing heard from Gov. Ramon Guico III! Neither did the Sangguniang Panlalawigan show any serious concern about it.
Today, rice crisis is very close to home. Yet, Mr. Guico never bothered to issue an executive order directing the provincial police to conduct surprise inspection of warehouses in Pangasinan.
A possible discovery of thousands of sacks of hoarded or smuggled rice can instantly bring down the price of P50 per kilo to P35 per kilo at the very least (with strict directive to NFA to sell only a maximum number to residents until supply lasts).
That's for the supply side. There's the plight of rice farmers still also largely ignored by the Guico administration. It has not proposed a measure that will provide crop insurance amid the continuing damage to the crops caused by typhoons and El Niño.
Is Pangasinan simply going to see an administration that prioritizes infrastructure projects over welfare of farmers' and consumers' concerns? A Miss World Philippines franchise over a need to intensify its illegal drug campaign?
Indeed, quo vadis, Mr. Guico?
Share your Comments or Reactions
comments
Powered by Facebook Comments