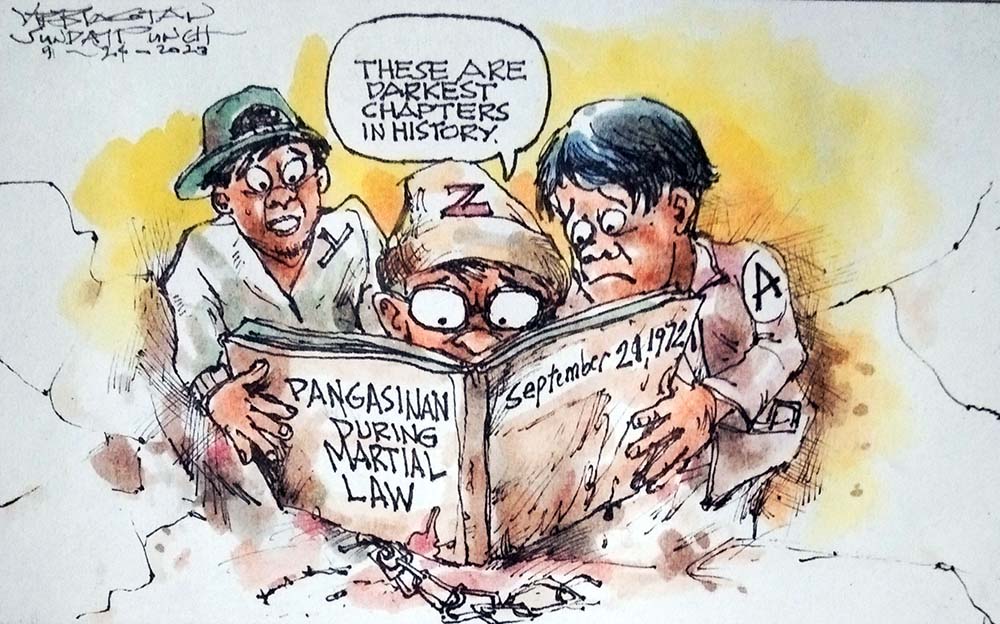 Remembering September 21, 1972
IT is not likely that babies born during the Generation Y (Millennials) from 1980 to 1994; Generation Z from 1995 to 2009 and Generation Alpha from 2010 to date, care to remember what happened on September 21,1972, or  51 years ago today –  the day when then President Ferdinand E. Marcos, declared martial law with PD 1081.
To many of them, it's likely that declaring martial law was just one of the events in the past that makes what the country is today, without caring to know more specifics.  So for their benefit, this two-minute brief, particularly, how situations evolved in Pangasinan should suffice:
On September 21 (Thursday), day ahead of the official declaration of martial law, the then Philippine Constabulary (PC) in Pangasinan started rounding up aktibista (students and teachers inside campuses, journalists, labor leaders, religious leaders), and were brought to the Lingayen PC headquarters to be detained.
PC personnel were deployed to local newspaper outlets' offices (Sunday Punch and Pangasinan Courier) and all 4 radio stations operations including long distance services of the PLDT to stop their operations. No explanations given by the PC.
President Marcos officially announced the declaration of martial law in a nationwide broadcast and telecast the following day, September 22, 1972. He cited his exercise of full powers and authority provided under the 1935 constitution, ostensibly to respond to the threat posed by the Communist Party of the Philippines and the rebellion of the Mindanao Independence Movement.
President Marcos cited the issuance of PD 1081 that he signed on September 21.
Before the declaration, opposition leaders, namely, Benigno Aquino Jr., Lorenzo Tañada, Jose Diokno and Jovito Salonga openly accused Marcos of concocting these events to consolidate power and extend his tenure beyond the two presidential terms allowed by the 1935 constitution. They were arrested immediately on September 22 together with other prominent journalists and labor leaders.
Men with long hair (that covered napes) walking down the streets were told to cut their hair short, young girls wearing mini-skirts were warned.
A 10 pm curfew was enforced.
Thus started the 9-year martial law era.
Share your Comments or Reactions
comments
Powered by Facebook Comments