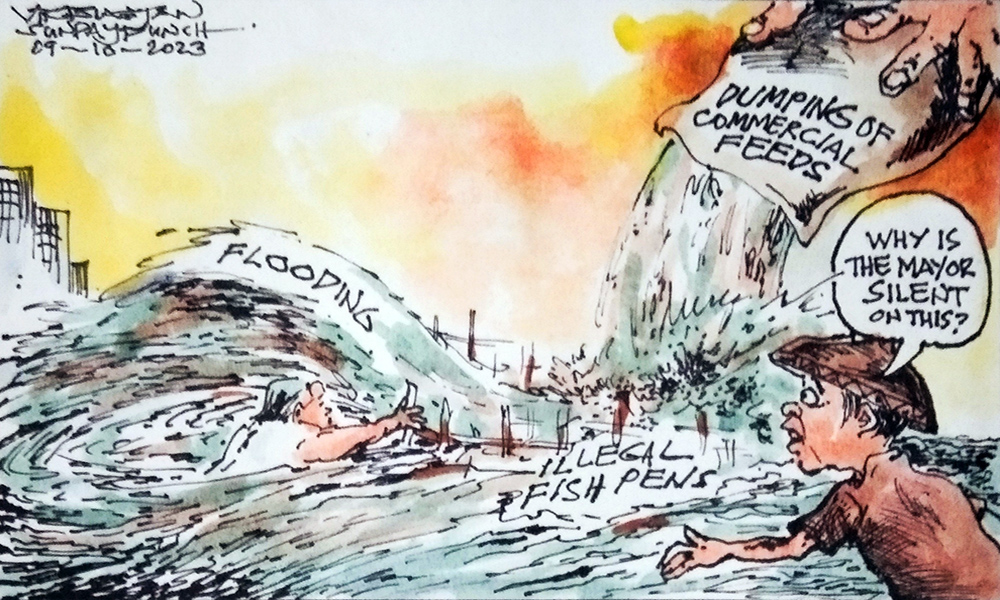 Dangerous political alliance in Dagupan City
LAST week, DPWH and Dagupan City government engineers confirmed that the city's rivers and tributaries are heavily silted and block the flow of water from upstream to the sea.
This fact can easily be gleaned from the Quintos Bridge over the Pantal River. A counterflow from the other side of the Pantal River is preventing water from the Sinocalan River in Calasiao to flow out smoothly, resulting in the raising of the level of water in the river by more than a meter from its normal level. (Dagupan is presently only 1 meter above sea level).
Recall that in 2013, then Belen Fernandez as city mayor pointed to the worsening siltation of the city's tributaries caused primarily by the proliferation of illegal fish pens during her predecessor's term.  She mustered enough political will then and managed not only to dismantle all the illegal fish pens but set a fishery ordinance outlawing fish pen operations.
Curiously, Mayor Fernandez has not been heard to act against the illegal fish pens that have since more than doubled the number in 2013 although she boldly pledged during her campaign that brought her back to power, that she would seek the dismantling of ALL the illegal fish pens to protect the city's environment.
Mayor Fernandez remains muted since she reassumed power in 2022. Not a word was heard from her, attributing that one of the major causes of severe flooding in the city's tributaries is the daily dumping of thousands of kilos of commercial feeds by illegal fish pen operators on the river; that the dumping made the river bed ultra-shallow, therefore, needs constant dredging.
She failed to cite it again last week after the government's engineers confirmed the urgent need to dredge the shallow rivers in and around the island barangays.
As it appears today, even the seven majority councilors out to sabotage the Fernandez administration on every turn, recently asked her to stop DPWH because the latter's elevation of roads and drainage e system project is causing serious inconvenience to the public. But they are not asking Mayor Fernandez to stop illegal fish pen operations.
A mutually beneficial arrangement appears to be pointing to a dangerous political alliance between Mayor Fernandez and the majority councilors at the Sangguniang Panlungsod to protect the thousands of illegal fish pen operations in the city. It is becoming evident.
Until Mayor Belen Fernandez or the majority councilors act on the serious threat to the city's environment, Dagupan City will continue to suffer from severe flooding.
Share your Comments or Reactions
comments
Powered by Facebook Comments