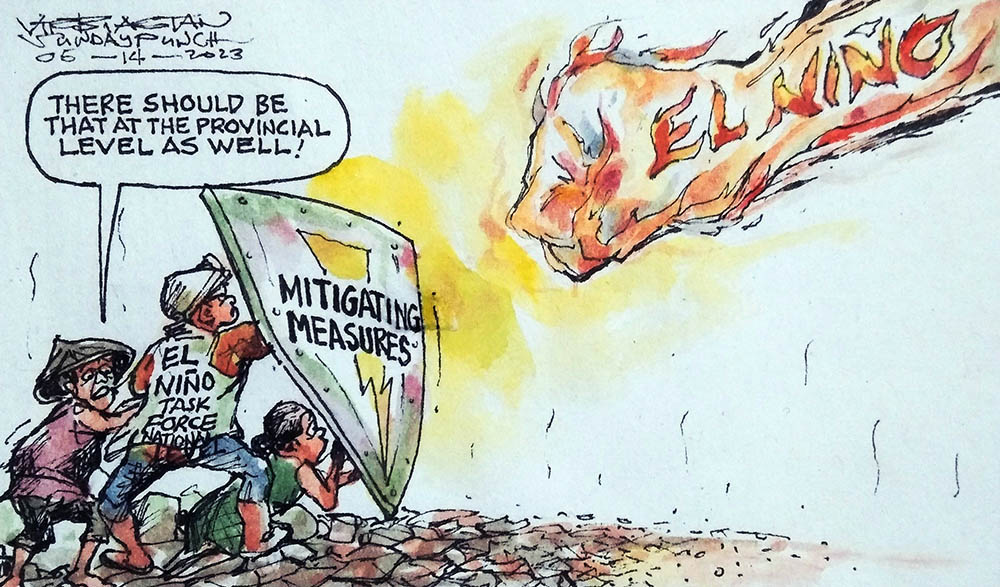 WANTED: Provincial Task Force for El Niño
OVER the past weeks, PAGASA, the Department of Health (DOH) and Department of Agriculture (DA) have been issuing warnings about the worst scenario that can be expected from the impact of El Niño phenomenon already given the adverse effects of climate change.
The DOH has warned of diseases related to water scarcity or shortage such as diarrhea and skin diseases, disorders associated with high temperatures: heat cramps, heat exhaustion, exertional heat injury and heat stroke. The DA warned of onset of Red Tide that causes paralytic shellfish poisoning, waterless farmlands due to poor irrigation.
PAGASA has been issuing warnings about worst scenarios as El Niño warning system to "Alert Level" could result in Super El Niño that could occur in July or barely 45 days ahead. It warned mainly of severe shortage of water and longer hot climate beyond 2024.
Meanwhile, the occurrence of thunderstorms this month has further confused communities, wondering what it is they could do to protect themselves.
So far only the Dagupan City government has followed the lead of President Marcos Jr.
The provincial government has yet to form its El Niño task force even after the national government indicated the urgency of organizing at the local level to mitigate impact on agriculture, food security and water supply.
The task force in the provincial level should be created this week to set the pace and guidelines for towns and cities that urgently need to form own task forces to protect their communities.
Governor Ramon Guico III, your constituents are waiting for your lead and guidance.
Share your Comments or Reactions
comments
Powered by Facebook Comments