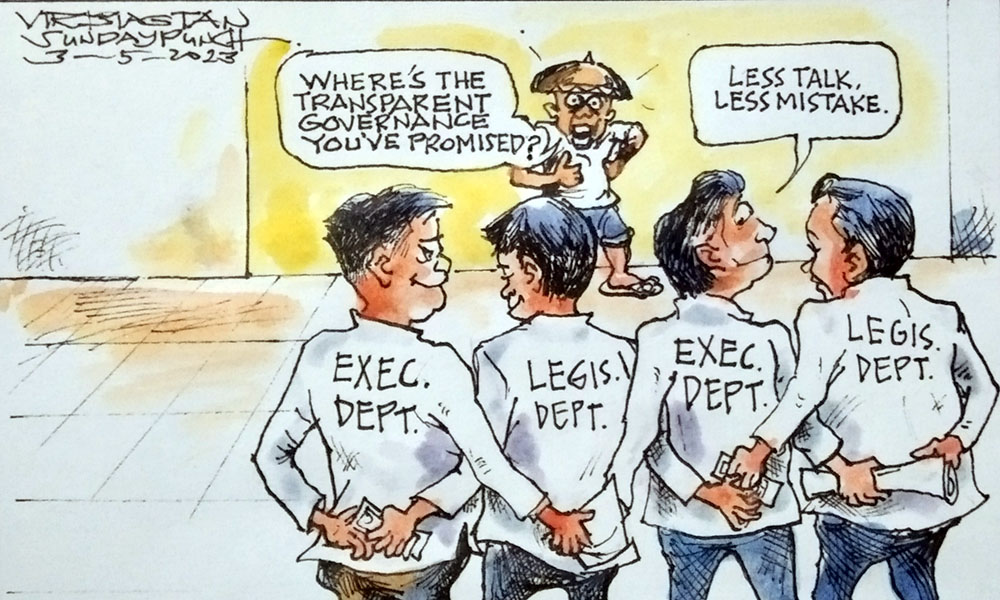 Wanted: Credible Sangguniang Panlalawigan
IT is bad enough that Pangasinan has a governor in Mr. Ramon Guico III who has assumed a muted governance policy never before witnessed in the province since the 60s!
The situation for Pangasinenses is aggravated when the provincial board members have shown willingness to merely do as the governor does – "No talk, No mistake" and "Less Talk, Less Mistake".
We noted this a month early on after they, as newly elected (and reelected) board members assumed office in 2022. Not one showed any serious concern that P2.3 billion worth of drug distribution center was discovered by the Philippine Drug Enforcement Agency in Pozorrubio. That they didn't even react to the muted reaction of newly elected Gov. Guico III to the discovery for days, sent early signals that a conspiracy was already operating within the provincial government.
If the honorable board members didn't have it in them to call out the governor, at least someone in their chamber could have raised critical questions about the discovery at the time when national and local media were pointing, and looking in the direction of the provincial officials for some answers. The board maintained its silence until a new provincial police director was appointed a week later and it promptly invited him to the Question Hour and made to respond to the drug issue, knowing P/Col. Jeff Fanged was not the accountable person when the discovery was made. The Pozorrubio mayor and police chief were never invited.
Now comes, the board members providing the Guico administration the carte blanche to file for a P60-billion credit line with Land Bank for 21 infrastructure projects whose detailed plans, purposes and objectives were never discussed and debated by them on the floor. A case in point was the plan to establish and construct facility for the Pangasinan Polytechinc College. How could the board members endorse the project when the only time the recommendation was raised by Gov. Guico was during a courtesy call of sports coaches a week before the board resolution was passed?
At the rate the seeming ongoing collusion between the executive and the legislative departments for a mutually agreed agenda, we wonder if Pangasinenses will ever be given the transparent governance that the electorate was promised in 2022 by a credible set of candidates for the provincial board!
Share your Comments or Reactions
comments
Powered by Facebook Comments