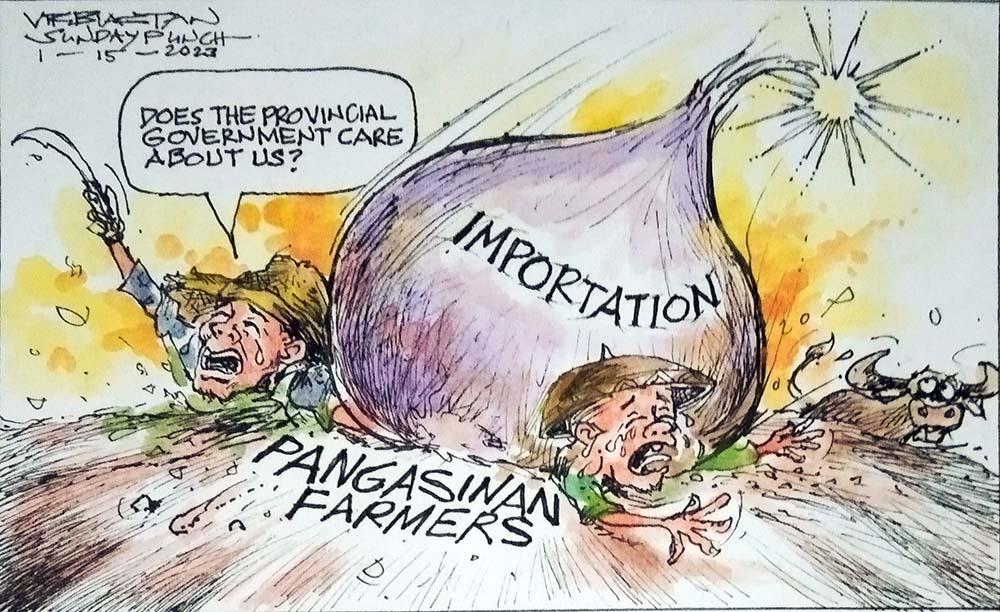 Farmers need help, provincial government is nowhere
IT is both disconcerting and worrisome to see the provincial government, seemingly helpless about the series of agriculture crisis, i.e., shortage of supply and runaway prices of rice and sugar today, and soon salt, hitting the country.
Perhaps, Pangasinan may not be considered a major factor in resolving the issues on the national level but the plight of the province's onion and rice farmers should be a serious major concern for the provincial government.
But nothing is heard from both Governor Ramon Guico III and the Sangguniang Panlalawigan.
Neither Mr. Guico nor any of the board members was reported to have held a dialogue with the farmers and other stakeholders in the production of rice and onions to discuss options to alleviate the plight of the province's farmers. By their silence, they are leaving our farmers left to fend for themselves when exploited by hoarders and traders and worse, by government policy that adversely affect them – importation.
On all counts, the provincial government has several options to consider to address the impact of the hoarding of supply and rising prices that don't benefit the farmers. Yet Governor Guico appears clueless and the provincial board unperturbed.
If only to compel at least a discussion between them, we ask them the following:
Can't the provincial government
To protect the farmer's livelihood, follow the Kadiwa concept by guaranteeing to buy at least 50-60% of farmers' produce at subsidized farmgate rates, then mobilize centers to sell the purchased produce at lower prices to local DSWD's indigent beneficiaries.
To ensure enough and adequate supply for local market demand, pass a provincial ordinance that imposes high penalties for hoarding to serve as basis for regular inspection of warehouses and monitoring of shipments to other provinces.
To protect farmers from unscrupulous lenders, to designate affiliated rural banks that will offer minimal loan rates to farmers pegged by the provincial government and offer tax incentives in return?
Elected government officials that don't care or are lazy to consider and act on solutions to favor and protect our farmers, should be exposed for what they are – as incompetent, inept and lazy.
Share your Comments or Reactions
comments
Powered by Facebook Comments