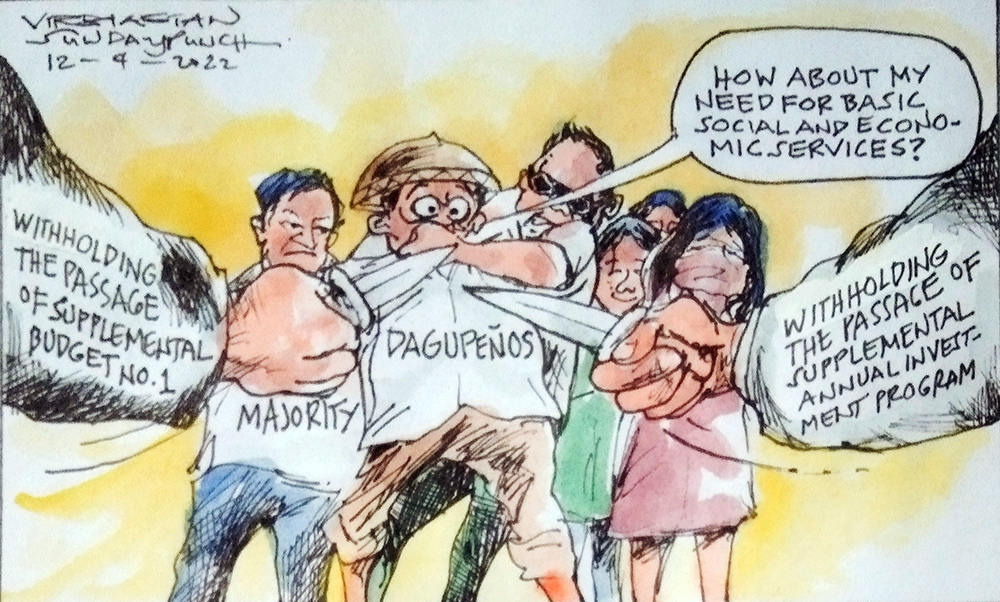 The unscrupulous seven of Dagupan City
DAGUPAN City is seeing its darkest hours yet in 75 years, a situation brought about by the vilest and ignoble collective political agenda of unscrupulous seven members of the majority at the Sangguniang Panlungsod, namely: Councilors Red Erfe-Mejia, Dada Reyna-Macalanda, Celia Lim and her daughter, Irene Lim-Acosta, Alvin Coquia, Alfie Fernandez and Malou Fernandez.
Without the least consideration of how their atrocious conduct as public officials affect their constituents, they are showing no pangs of conscience as they hold the health and social welfare of Dagupeños hostage by withholding the passage of the proposed Supplemental Budget No. 1 and Supplemental Annual Investment Program for 2022. They do it openly and deliberately for one purpose –  to make the city regret and suffer for the  humiliating defeat of their political patron ex-Mayor Brian Lim's in his bid for reelection.
Worse, this cow-herd of councilors is also out to cover up the abominable series of corruption during the Lim administration, from erasing and deleting files of its anomalous transactions since 2019, to evident, fraudulent disposal of scholarship funds, blatant flouting of the city's fishery ordinance by hosting thousands of illegal fish pens, etc. The depletion of more than half of the 2022 annual budget in four months in conspiracy with key department officials at the city hall says it all but the unscrupulous seven would not hear of it. They refuse to pass the supplemental budgets to make it worse.
The latest bizarre antic of the seven amoral councilors to rub insult to the people's injury? They rejected the minority's appeal to discuss the majority's objections to the passage of the two proposed budgets during the regular session. The shameless seven would rather spend more time deliberating, congratulating the successful election of two of their ilk in  an ineffectual political organization.
While they obviously view Mayor Belen Fernandez as a cowardly and indecisive political enemy, she who can easily be intimidated, afraid to make a move against them and make corrupt officials account before the courts, they forget there is the simmering wrath of their constituents who're being deprived of benefits of basic health and social services due them.  The people's unprecedented wrath will certainly befall them before they end their terms.
There is time for politics, a time for public service. A time for civil conduct and statesmanship in politics. Is the city cursed by the heavens for having seven pea-brain councilors that don't know and understand these tenets in public office? They certainly don't deserve to be referred to as "honorable".
It's time for Dagupan's barangay leaders, government employees, market vendors, transport groups, civic and professional groups to stand up against the unscrupulous seven and declare the latter collectively as "persona non grata."
Share your Comments or Reactions
comments
Powered by Facebook Comments