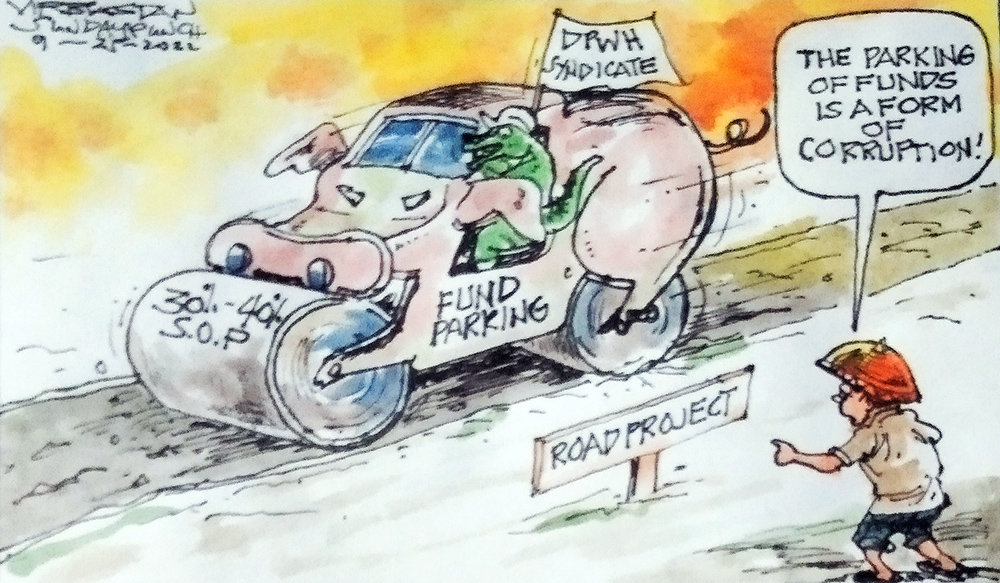 THE exposé of Senator Alan Peter Cayetano about DPWH's "fund parking' or the illegal realignment of billions of pesos in the infrastructure department's 2023 budget is an indication that the 30-40% "S.O.P." from favored contractors is back with a vengeance.
This involves allocation of projects in various districts, and it could very well include Pangasinan's six congressional districts.
What this means for Pangasinan is, any listed road, bridge, etc…infra project will not only NOT be completed on time but haphazardly completed because the favored contractors of the DPWH or of the congressmen only had 60-70% of the budget to spend. The rest?  It went to the DPWH syndicate and the congressmen's pockets.
Pangasinenses will never know how the kickback system worked this time, and will only know after the road and bridge project is completed, if and when completed.
In the spirit of transparency, let us demand of our six congressmen to identify the listed allocated funds for which projects in their respective districts.
If the suspicion of Senator Cayetano has basis, we are looking at a new hybrid form of pork barrel that works the other way around but results in the same way – corruption at its worse and districts get the worst quality performance.
What does President Marcos Jr. (or his resigned Executive Secretary Rodriguez who validated appointments at the DPWH) know about this?
Early Christmas
THE postponement of the barangay and Sangguniang Kabataan (SK) elections is now a sure thing.  With 264 lawmakers voting yes against six voting no and three abstaining, House Bill No. 4673 was passed on its third and final reading last Sept. 20, moving the polls from Dec. 5, 2022 to December 2023.  Senate Bill No. 1306 drafted for the same purpose is bound for passage after it hurdled its second reading last Sept. 21.  Because of the postponement, the P8.5-billion budget for the Dec. 5 polls will increase to P18 billion for the December 2023 polls, according to the Commission on Elections (Comelec).  The Comelec said the budget increase was for additional polling precincts, supplies and higher honoraria for teachers acting as electoral board members.  Happiest are the incumbent barangay and SK officials, who will benefit the most with the polls postponement—salary-wise.
Early Christmas cash windfall.
Share your Comments or Reactions
comments
Powered by Facebook Comments