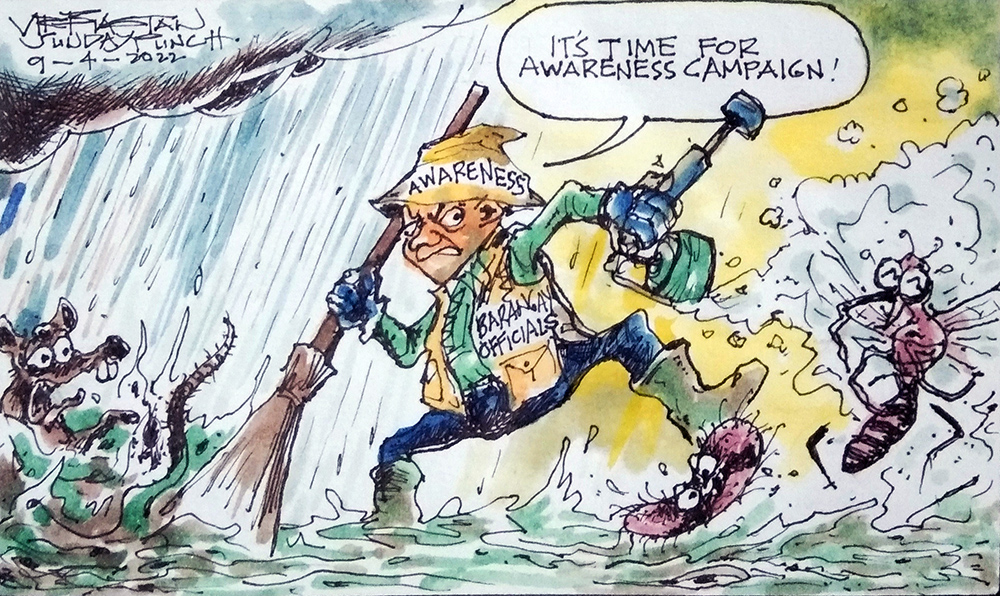 Barangays vs. deadly dengue, gastroenteritis, leptospirosis
WHILE the national government continues to focus its attention on the infection rate of COVID-19 in the regions, the Pangasinan provincial government must not lose sight of the seasonal illnesses that infect communities during the rainy season- and can cause death: Dengue from mosquitoes. Gastroenteritis mainly from polluted drinking water. Leptospirosis from wading in floodwaters.
This is a task and responsibility rest mainly in our barangay officials and health workers because the root causes are visible and right in the middle of their communities. Only they can serve as effective multipliers for our usually undermanned provincial, city and town health personnel.
The basic objective is simple – Prevention! The strategy is simple – To create higher level of awareness of the causes in the neighborhood, identification and removal of stagnant water in homes and in commonly flooded areas, efficient delivery of oral dehydration drinks and quick response for testing and admission in hospitals.
For this purpose, mayors should make accountability of barangay officials and their health workers to this mission very clear and should support them with necessary logistics and resources to make them effective. (Barangays cannot even complain of absence of resources because the law provides then a share in the Internal Revenue Act).
So, any possible increase in cases and deaths can only be attributed to inaction on the part of the city executives, the barangay chairmen and the corps of barangay health workers.  They are accountable.
Applause for Supreme Court
THE nation applauds after the Supreme Court issued a TRO (temporary restraining order) to the implementation of the NCAP (No Contact Apprehension Policy) ordered by several Local Government Units in Metro Manila.  The High Court's decision came in the wake of complaints from transport groups and netizens for the utter "unfairness" of the ordinance that punishes "traffic violators" with cancellation of vehicle registration and a driver's license on top of exorbitant fines from P2,000 upwards.  The magistrates took cognizance of the fact that no exhaustive dialogues and consultations with stakeholders were held before the NCAP was adopted.  Indeed, the ordinance appears one-sided and ill-advised since it allows a camera installed somewhere to snap at a "violator."  Said violator would receive the "violation" by mail, with the vehicle owner becoming the automatic culprit even if he wasn't driving the vehicle at the time "the crime was committed."
It can't get any crazier than this, indeed.
Share your Comments or Reactions
comments
Powered by Facebook Comments