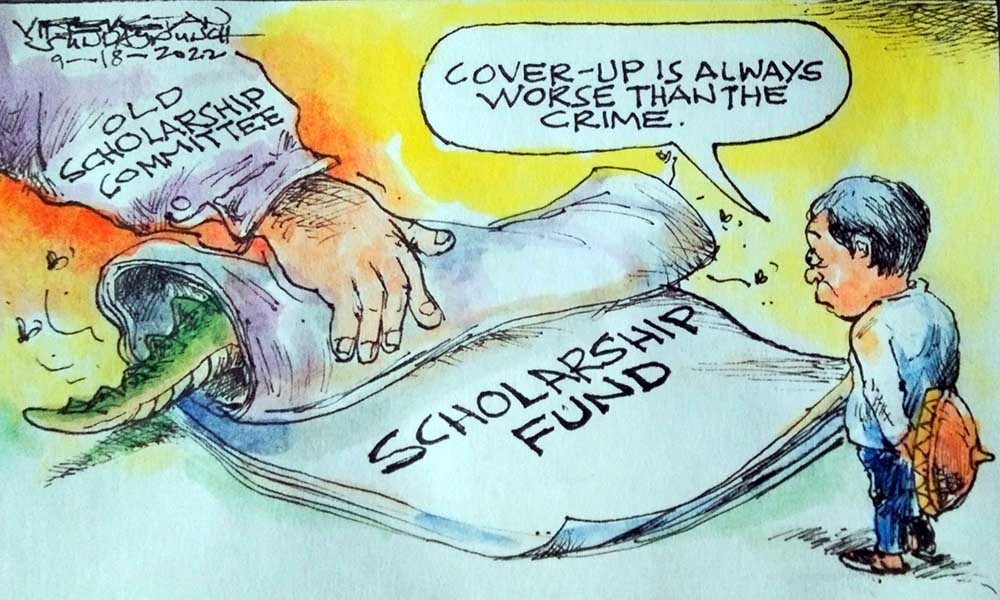 Accountability in cover-up of Dagupan scholarship fund mess
THE discovery of deliberate misuse and exploitation of the scholarship fund program by unscrupulous officials of the Brian Lim administration for political purposes and, obviously, for self-aggrandizement is the height of contemptuous conduct of a public official.
The temerity of councilors belonging to the majority in the Dagupan Sanggunian to even compel a barangay chairman to issue certification of residency and indigency to prospective scholars despite a validation of the barangay council that the submitted names are non-residents of the barangay, speaks of their callousness and absence of integrity.
The misappropriation of the funds is not the single damage to the city government and city residents but the fact that the members of the committee made the prospective scholars believe that it was all right to lie about their status is the worst offense they did to this generation's youth.
The past scholarship committee's refusal to forward the salient documents of all students awarded scholarships is an obvious attempt to cover-up of their discovered folly. It's criminal. Worse, by passing another resolution restating its demand, the majority is further exposing the exploited students, who agreed to lie about their residency and indigency,  to further humiliation – exposing them as flying voters in Dagupan City.
The members of the Lim administration's scholarship committee must be told that they are accountable and liable for criminal and administrative prosecution if they insist on their cover-up and refuse to submit pertinent documents to shed light on the irregularities committed, as obviously dictated by their committee chairman, then Mayor Brian Lim.
Free rice
FREE rice for government workers soon?  Take it from no less than President Ferdinand "Bongbong" Marcos Jr.  In a pre-recorded interview aired on newly opened ALLTV network owned by Manny Villar, the country's richest person according to Forbes Magazine, the President said:  "I'm going to initiate, at least for the government workers, the rice allowance.  Part of the wages will be paid in rice so that we can make sure that everybody, every family will have rice."  What a bright idea.  It is definitely brighter than his campaign pledge to sell government rice at P20 per kilo.  Free rice for the people is doable while pegging rice at P20 per kilo is like saying Juan Ponce Enrile will live forever.  The President himself has hinted on the impossibility of it.  He said:  "We can sell it at P20 per kilo, but that's not really realistic."  Please don't make the people hope.  Again.  They are tired of hoping.  Make free rice real.
Just do it.
Share your Comments or Reactions
comments
Powered by Facebook Comments