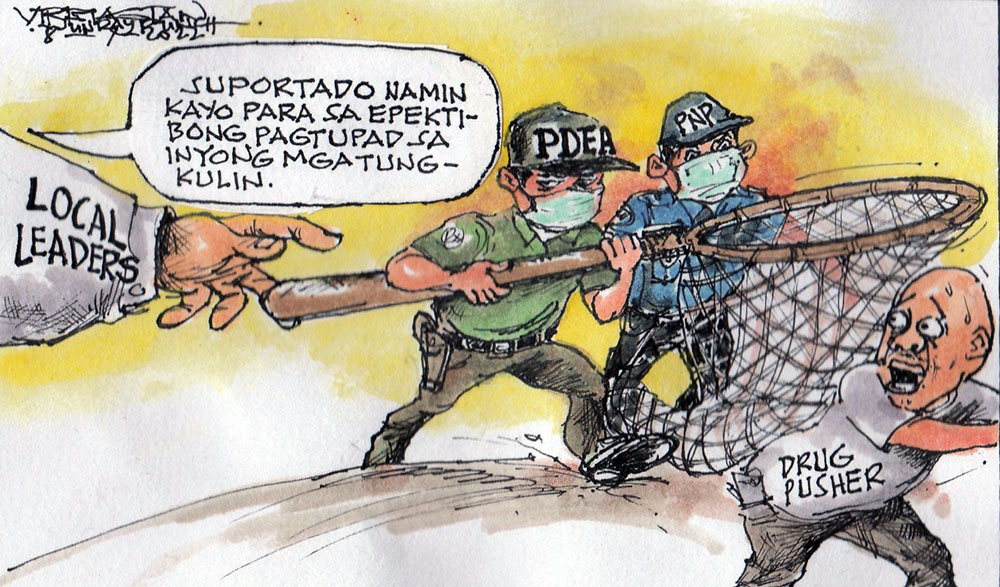 PHILIPPINE Drug Enforcement Agency recently confirmed that only 941 barangays (83%)  out of 1,136 in Pangasinan have been declared "drug-cleared" since the drug war launched by the Duterte administration.
There are still 195 barangays that remain to be cleared.
Still the number does not include the number of the drug-cleared barangays that stand to be delisted because of indications and reports that drug pushers have resurfaced or rehabilitated users and pushers have reverted to their old habits and activities in the barangays.
So far, the Guico administration has not indicated whether the festering illegal drugs problem will be among the priority problems that will be addressed in the next three years.
While the campaign to contain if not eliminate illegal drugs in our midst is a case for law enforcement by PDEA and PNP, our local leaders must demonstrate political will to support their efforts. The known fact that no drug den and street peddling can happen without the barangay kapitans knowing about these in their jurisdictions, makes the illegal drugs problem end squarely on the desks of the governor and the mayors.
We sincerely hope the efforts of the Duterte administration and of the Espino governorship to protect families for the last 9 years will not all be in vain under the BBM administration and the Guico governorship.
FVR
FIDEL V. Ramos (FVR), Pangasinan's proudest son ever from Asingan town, has passed on but not after leaving an indelible mark in the nation's consciousness by being the gallant architect of at least three major reforms that changed the face of the Philippine economy forever.  It was under his watch as the country's 12th president from 1992 to 1998 that the skies opened to free airline competition, breaking a decades-old stranglehold by the Philippine Airlines of travel exclusivity on our air space.  This was followed by FVR's bold move to open communication lines to other investors, in the process smashing PLDT's monopoly of our telephone facilities.  He would next privatize vital government industries like water services, giving birth to two major players Maynilad and Manila Water, both of which now provide ample supply of water year-round to previously water-starved residents of Metro Manila's North and South sectors.  Good job, Sir.
Rest well now as a grateful people pray for God's grace on your journey back home to our Creator's paradise.
Share your Comments or Reactions
comments
Powered by Facebook Comments