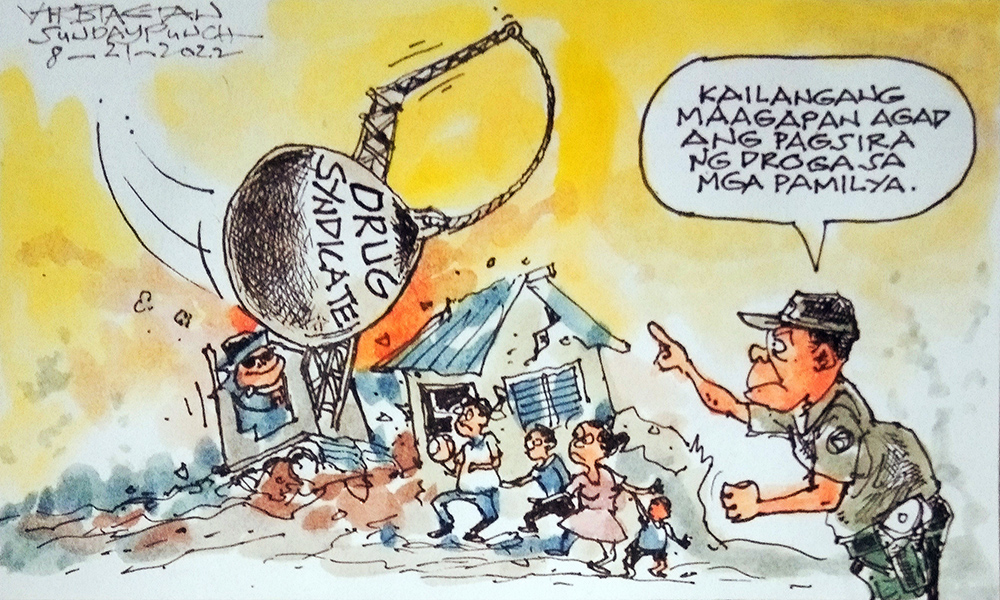 The P2.5 billion home wrecker
AS we were about to end our presswork last week, a huge news breaker reached our news desk – the Philippine Drug Enforcement Agency discovered a seeming ordinary residential house that turned out to be the packaging and distribution center of more than 300 kilos of shabu with a staggering estimated P2.5 billion value in the streets.
As PDEA admitted, it's the biggest haul ever not only in Pangasinan but in the region!
That a major distribution center was being operated in Pangasinan should alarm thousands of families who've already been coopted by the drug syndicates and their street peddlers, and millions more whose family members are easy prey to the syndicates.
Former President Duterte ate humble pie when he admitted he was wrong to believe that his war on drugs could end the drug menace in six months. Nothing could be further than the truth and the latest seizure is proof of it.
But the arrest of the five "Chinese tea" packers can only be viewed as the tip of the iceberg. A huge illegal distribution operation manned by non-Pangasinan residents can only mean that it is protected by a group of Pangasinenses with known connections to local law enforcers and some key politicians from the barangay level up.
A huge black smoke is covering the sky in Pangasinan. There is a conflagration in our mist that needs all the arms of the law to put it out.
 'Sour' sugar
THE story is told that President Marcos Jr. ordered Undersecretary Leocadio Sebastian of the Department of Agriculture (DA) to import 350,000 metric tons of sugar to solve the problem of sugar shortage nationwide.  Sebastian did as ordered and signed the document—only for Sebastian to be told by Malacanang spokesperson Trixie Cruz-Angeles that he was not authorized to sign on behalf of the President, who is the concurrent DA Secretary.  When the President kept mum over his mouthpiece's revelation, Sebastian apologized and, together with three other sugar officials who also signed the purchase order, resigned—including Hermenegildo Serafica, head of the Sugar Regulatory Agency.  Was the President influenced by shadowy sugar players to dump Sebastian as the rumor mill had hinted?  Could be, if we take Mr. Marcos Jr's recent statement that we would, after all, import sugar "if needed."
First presidential flip-flop?
Share your Comments or Reactions
comments
Powered by Facebook Comments