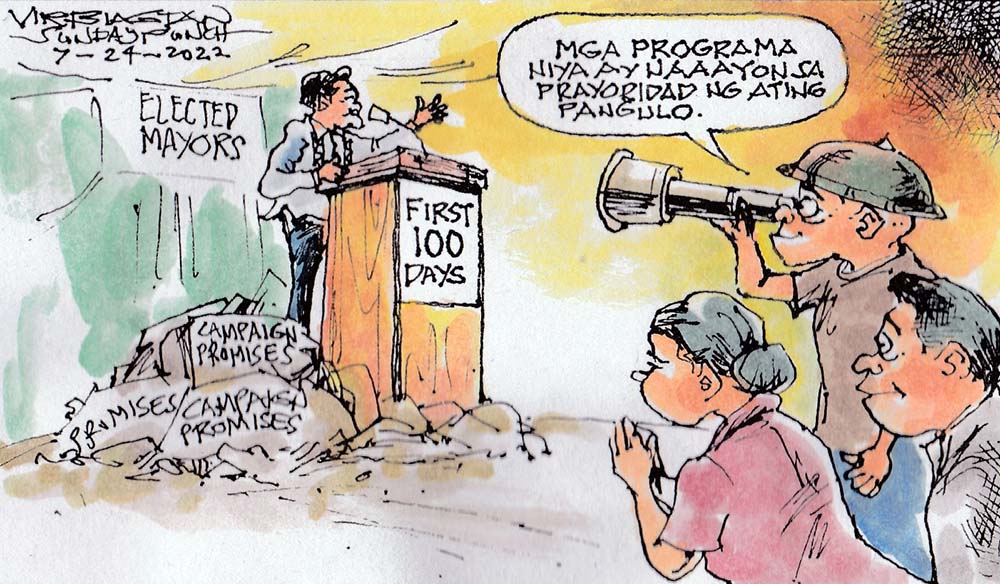 The first 100 Days and SONA
THE province's new set of mayors are expected to put their best foot forward in the first 100 Days after being given the mandate to serve for three years, mostly on the basis of the campaign promises.
Their credibility and integrity are at stake if they fail to show that they meant what they said during the campaign period.
Much and more are even expected of the reelected mayors. They have been told what displeased the voters and what voters expect from them this time. They cannot simply continue like business as usual. Their reelection is a second chance to do better than the usual.
Among the visible reforms that impact greatly on the local electorate are: 1) Peace and new order in the streets and market. 2) High visibility in solving major problem areas. 3) Continued consultation with communities. 4) Alignment of vision with national government.
It is in this regard, that our mayors must set their eyes and ears on the President Bongbong Marcos' State of the Nation Address in their first 100 Days. It is to their benefit that their programs of action become familiar being aligned with the national government's priorities in addition to their town's priorities.  Any positive response to the national government's programs will impact as well on the local level.
Unity in purpose and in mind always result in dramatic results.
Postponement a bad idea
THE elections of barangay and Sangguniang Kabataan officials are in danger of being postponed again to the detriment of good governance in our 42,000 barangays nationwide.  Said polls set on December 5 might not materialize if the 19th Congress opening on July 25 decides to scrap them in answer to a call by several lawmakers wanting to hold them simultaneously in 2025 with the local and national mid-term elections.   But to do that would entail more expenses as the 2025 elections are automated as against the manual mandate for barangay-SK elections.  Likewise, to scrap the December polls would mean extending the tenure of many abusive barangay officials, not to mention many of whom are facing various offenses at the Sandiganbayan.  Cannot our Congress make some sense, for once, by shooting down the ill-laden idea to again postpone the barangay-SK elections?
Enough of nonsense, please?
Share your Comments or Reactions
comments
Powered by Facebook Comments