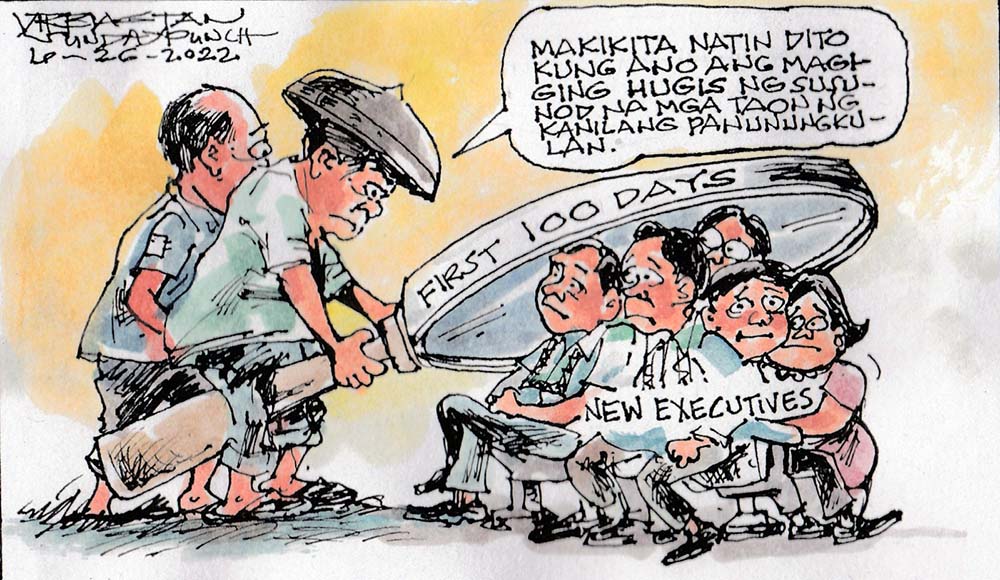 Post pandemic 'First 100-days' of local governance
STARTING next week, our communities will be watching how our newly reelected and elected provincial and local officials will conduct themselves in the next 100 days.
Here are some barometers uppermost in our local communities' minds.
Firstly, while it is safe to assume that the worst of the COVID-19 pandemic in the province is over, the worst that can happen to the province and in our towns and cities is to see a return to the pandemic level in 2020-2021 in the months ahead.
Can our new executives sustain the current successful efforts at keeping our communities safe? Our learners and students will soon be engaging each other actively in classrooms and playgrounds, what preemptive measures will be adopted and added to what the national government already prescribed?
Then, there is question of how soon and how far can our new (and old) leaders manage our dire economic situation in the face of the fuel crisis that not only seriously impaired livelihood of many but already caused prices of basic commodities to shoot up?
Can they be expected to introduce "out-of-the-box" initiatives to cushion the economic and social impact of the fuel crisis on families?  Will they be able to preserve our peace and order in our communities amid expected rise in crimes against persons and properties?
We hope and pray that our newly established local governments will be guided by these questions as they set out to illustrate their respective agenda in the next 100 days… and beyond 2024.
Bravery not enough
PRESUMPTIVE President Bongbong "BBM" Marcos said he will be the Secretary of Agriculture, too.  Why is that?  The situation has obviously become so bad—our country having a dearth of talents in agriculture management—that the Chief Executive chooses to lead the management of the country's agriculture sector on top of the telling task at hand, which is to oversee 24/7 the whole gamut of national affairs.  Well, as the President, he can really do so much for our farmers with less resistance, if not zero resistance at all, from Congress and the Senate as a sign of respect to the highest official of the land.  Hopefully, he has enough data and expert advice about farming, food security and the gut-wrenching issue of spiraling rice prices.
While bravery is an admirable virtue in a leader, it his performance in micro-managing our agriculture sector that will certainly be his litmus test as an executive.
Share your Comments or Reactions
comments
Powered by Facebook Comments