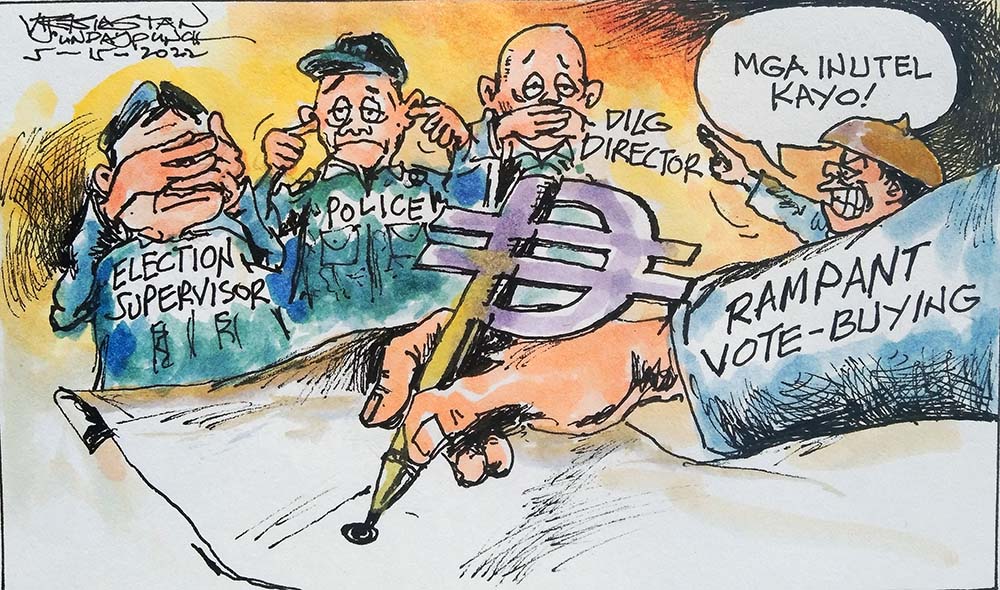 Failed system vs. vote-buying
COMMUNITIES everywhere in Pangasinan expected vote-buying spree in the last two days before May 9, everywhere except the Comelec offices.
Despite all the threats of legal consequences in media by the Comelec officials, voters were up late nights and early dawn on the streets waiting for convoys to stop in areas in barangays, or waited for gates to open. And most were not disappointed. Families returned to their homes hands with plastic bags filled with grocery items and cash in their pockets.  Votes were bought and sold.
But it's been a week since vote-buying spree and nothing's been heard from Comelec's election supervisors, police and DILG directors about the vote-buying and selling, like these never happened in their areas. Like the proverbial monkeys that didn't see, hear or speak about it, our officials tasked to enforce and implement the Omnibus Election Code, have been exposed for their failure to do their duties. But that didn't seem to bother them.
The beneficiaries (candidates and recipients) of the rampant vote-buying and selling didn't give the highly anomalous situation any thought except the exchanging of tales of comparisons between this year and previous elections -who gave the most and the least.
Communities thumbed their noses at the law and the enforcers, and nobody – Comelec, police and DILG officials – seemed to care.
What have become of us as a people and as a government?
Consistent
SPEAKING with audacious confidence he'd be the 17th president of the Philippines, Bongbong Marcos said he wanted Sara Duterte to be the next secretary of education.  In an address to the nation two days after the May 9 election, the presumptive president said:  "Our incoming vice president (Duterte) has agreed to take the brief of Department of Education.  I asked her if she could…and she agreed.  She would be a good secretary because she is a mother and she wants to make sure that her children are well-trained and well-educated."  He said he would announce other members of his Cabinet in the coming days. In the same occasion, Marcos did not accept questions from the media—a stance he had consistently adopted during the campaign period.  When Vic Rodriguez was asked on how Marcos would face his contempt charges in the US once Marcos is proclaimed president, the Marcos spokesman ignored the question.
It's just the beginning.
Share your Comments or Reactions
comments
Powered by Facebook Comments