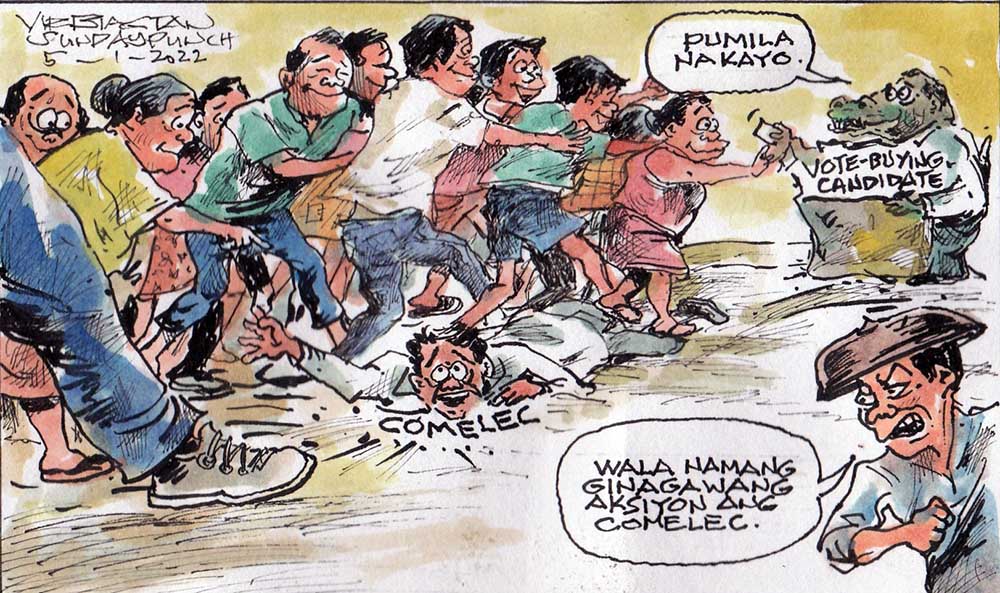 Clean, credible elections just a wishful thought
THE country is headed for the homestretch in the campaign period for both national and local candidates to earn definitive support for their bid in the 2022 national and local elections.
And to say that contest is getting exciting would be an understatement.
At the local level, many communities are keeping late nights for one reason – to watch out for handouts of groceries and cash by mayoralty, congressional and gubernatorial bets. Judging by the excitement felt in neighborhoods on seeing their candidates approaching, followed by a retinue of aides and helpers backed by vans and trucks, communities are mocking and laughing at the helplessness of Comelec officials to stop the "pakurong" tradition, the most awaited "fun" part of elections.
Not even the oft-repeated threats of imprisonment by Comelec would push back voters back to their homes.
The brazenness with which both candidates and voters openly flout our election laws calls to mind the need for sweeping reforms not only in the system but in the organization and mandate of the Commission on Elections itself.
But sadly, no politician appears to have the gumption to make the first move for fear of being ostracized as a marked man. Is vote-buying going to be a regular fare in the next decades?
Will clean, credible elections always remain a wishful thought?
Are they Filipinos?
FOR calling on the Commission on Elections (Comelec) and other government agencies like the Philippine National Police and the Armed Forces of the Philippines to be "nonpartisan and to protect the will of voters as expressed in the ballot," the Asian Institute of Management Alumni for Leni Robredo, was rebuked by Comelec Commissioner Socorro Inting.  What's wrong with the call? "It tends to sow distrust on the integrity of the Comelec… The appeal subtly conditions the minds of Filipinos that the upcoming elections are not credible should Vice President Leni Robredo lose in the presidential race." Worse, Rey Bulay, Inting's fellow commissioner, said that those saying the Comelec is biased "we will have you rounded up and have you jailed." Are Inting and Bulay Filipinos?  Have they forgotten that we live in a democracy?  That free speech and freedom of expression is guaranteed in the Constitution?
Darn.
Share your Comments or Reactions
comments
Powered by Facebook Comments