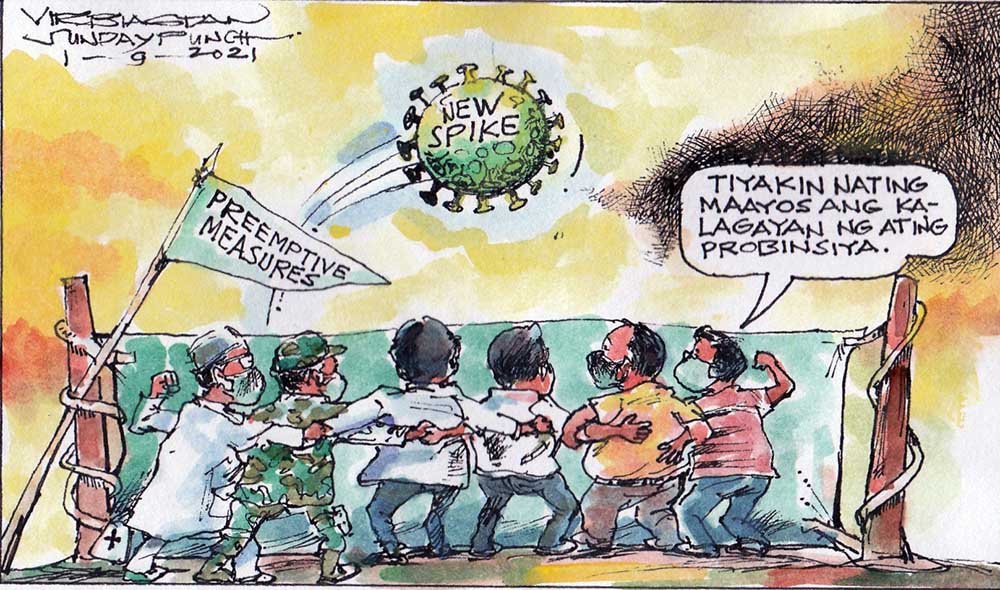 Pangasinan is in good hands
THE preemptive measures adopted by the provincial government to address the not totally surprising spike in number of new Covid cases in the province is indicative of an assurance that the province is in good hands.
While it could have conveniently recommended the declaration of a shift in the province's Alert Level 2 to Alert Level 3, it chose to simply shift strategy to manage the pandemic prudently. By choosing to keep the Alert Level 2 while reintroducing measures under Alert Level 3 provides a good balance between safeguarding public health and keeping the momentum for the local economy to recover.
It's noteworthy to note that the provincial government has called on barangays to help monitor, strictly implement and enforce the established health and distancing protocols because the utter disregard of communities of these protocols during the Christmas holiday were the main causes of the sudden spike in cases.
We hope the health, police and political authorities on the ground will not take to the guidelines set by the provincial IATF simply as another public relations effort , and take these to heart.
Let's hope the national IATF will not squander the Espino administration's efforts to make its balancing act work.
The new strategy of the capitol should serve as a lesson in governance. To be prudent but deliberate in addressing emergency situations.


Sham?
THE suspense is killing us.  What's taking Comelec (Commission on Elections) that long to decide on the multiple cases filed against Ferdinand Marcos Jr. regarding the validity of his certificate of candidacy for president this year?  He lied when he checked "No" to a question in his CoC that he is not a convict when in fact, he is. In fact, other petitioners want him disqualified outright, citing his tax evasion conviction in 1995 that carried the penalty of perpetual disqualification from holding a public office through either by election or appointment.  Whatever the Comelec decides, the ruling will be appealed to the Supreme Court, requiring yet another protracted deliberation of the case.
And so, the question: Minus a conclusive verdict on the issue, will Comelec proceed to print the name of the late dictator's son in ballots for the May 9 polls?   
A shame to a sham in the making?
Share your Comments or Reactions
comments
Powered by Facebook Comments