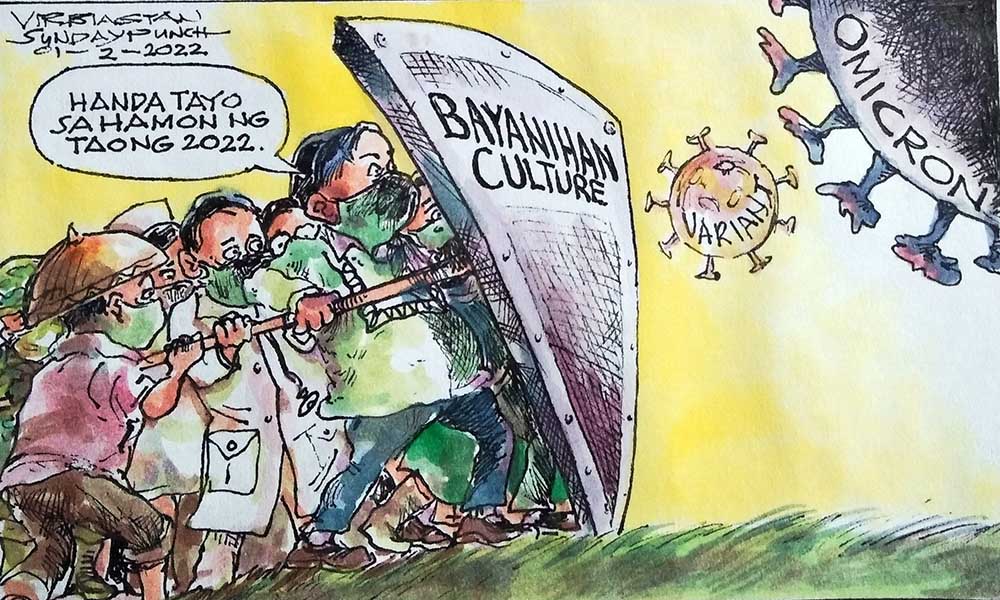 2022 challenges to our Bayanihan culture
GIVEN what the weeks and months ahead of us tend to promise, we can only breathe a deep sigh of relief today knowing we find ourselves spared of onslaught of a pandemic.  There was simply no stopping a runaway train like a third surge of COVID-19 that is to wreak havoc in our lives and in our economy anew.  Or, so we thought.
Today, we hardly have had enough time to relish a seeming respite from daily routine of watching out for familiar names who may have succumbed to a deadly unseen enemy, and here we are again being threatened by another variant that could hit us from nowhere.
But consider ourselves fortunate for now, that the dreaded third surge has not reared its ugly head compared to how the more developed countries, those who had first and easier access to the vaccines from first clinical tests, are being made to test their thresholds in managing their human and material resources against Omicron.
It's ironic that we can say to them that "We've been there" and "Here you are."
The fact is, we've weathered the worst, seeing the enemies in ourselves -we who were initially in self-denial, we who mistrusted government's ability to see us through a health crisis this generation has never seen, when many chose to rally behind the flag of civil rights vs. images of dictatorial rule.  Yet, we survived most of the challenges.
Moving on, we must keenly learn from mistakes of other nations if we are to survive while we are confronted with devastations from natural calamities and divisiveness of our politics in the months ahead. We may not realize it but fortunately for us, we have our deep emotional attachment to our bayanihan culture.
It's what really pulled us through, and it will be challenged anew in 2022.
Last harvest?
WEIGHTLIFTING gave us our first Olympic gold medal in Tokyo last July.  That golden feat by Hidilyn Diaz ended a 97-year wait after our Olympic debut in Paris 1924.  Also in Tokyo, we won three medals in boxing.  The silver of Nesthy Petecio and the bronze each of Carlo Paalam and Eumir Marcial were the most won by a single sport in our storied Olympic participation.  But we may have seen our last bountiful harvest in the quadrennial Games.  The International Olympic Committee (IOC) has just scrapped boxing and weightlifting in the 2028 Los Angeles Olympics after saying it might also cancel both events in the 2024 Paris Games.  A pity, indeed, should the plans are carried out by the IOC, which cited corruption and doping as reasons for their action. Alas, we're being punished for crimes commonly committed by First World countries led by Russia.
Our own Olympic officials must not take this sitting down. Move.
Share your Comments or Reactions
comments
Powered by Facebook Comments