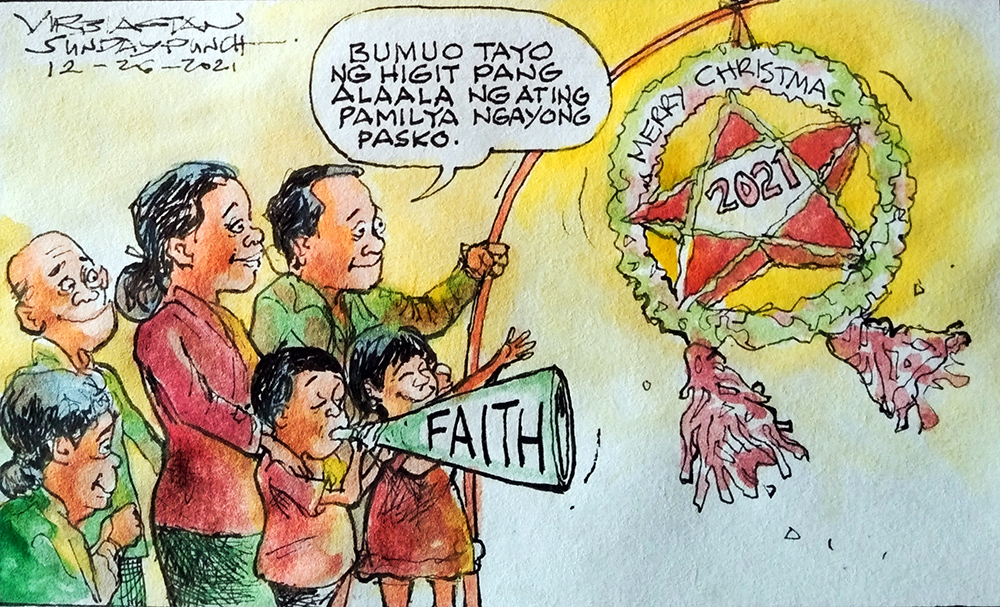 'Merry Christmas' is what we make it
SHOULD the celebration of the Christmas take us away from the sufferings of our fellowmen in the southern islands amid new fears of a new outbreak and surge in the Covid pandemic?
Not a few even wondered how the country can move on from this New Normal Christmas with all the miseries and the financial burden suffered by thousands of families around us.
Lest we forget, Christmas is about sharing blessings in the name of the Holy Family, of Jesus Christ's love for us . We may be far from the barangays that saw unimaginable tragedy and disaster from Super Typhoon Odette, but we see images of these in our own communities.
Somewhere is a child in need of clothing, an elderly with no family who needs to feel the warmth of a family care, parents who need to attend to their children in the hospital. With or without calamities, they are ever present in our midst. They are the images of Christmas.
Recall that Christmas is about reacquainting ourselves with families and friends, fellow workers whose daily precious presence in our lives we have taken for granted. It is about faith in our Creator, our life mysteries and traditions that kept us together in the past, and more memories today.
It is a good moment to break away from the humdrum of surviving and acquiring material comfort and build more good family memories as our Christ wants it.  A time for self-reflection to rekindle the good memories of past Christmases.
Let us continue to make Christmas as we did in the past with resolution to pass these on to next generations. Have a Merry Christmas!
Faith
SUPER typhoon Odette has killed nearly 300 persons in Visayas and Mindanao alone, destroyed infrastructure initially placed at P20 billion, practically flattened many of the 3,286 villages it hit, and affected nearly 4.2 million individuals living below the poverty line.  Include the more than 400,000 of our countrymen who fled their homes for higher ground and evacuation sites.  Odette was the 15th typhoon to wreak havoc on our hapless brethren down South and Palawan on Dec. 16-17, packing a horrendous maximum wind speed of 250 kph that toppled coconut trees, communication lines, electric posts, houses of all make and even buildings made of cement and concrete.  Seawater surges as high as 30 feet washed away roads and bridges and buried both homes and people in mud.  Amid death and devastation, we ask: Why dear God?  But faith—the mystery of faith—is as perennial as grass.  Remember BTS: Believe-Trust-Surrender.  We shall overcome.
Share your Comments or Reactions
comments
Powered by Facebook Comments