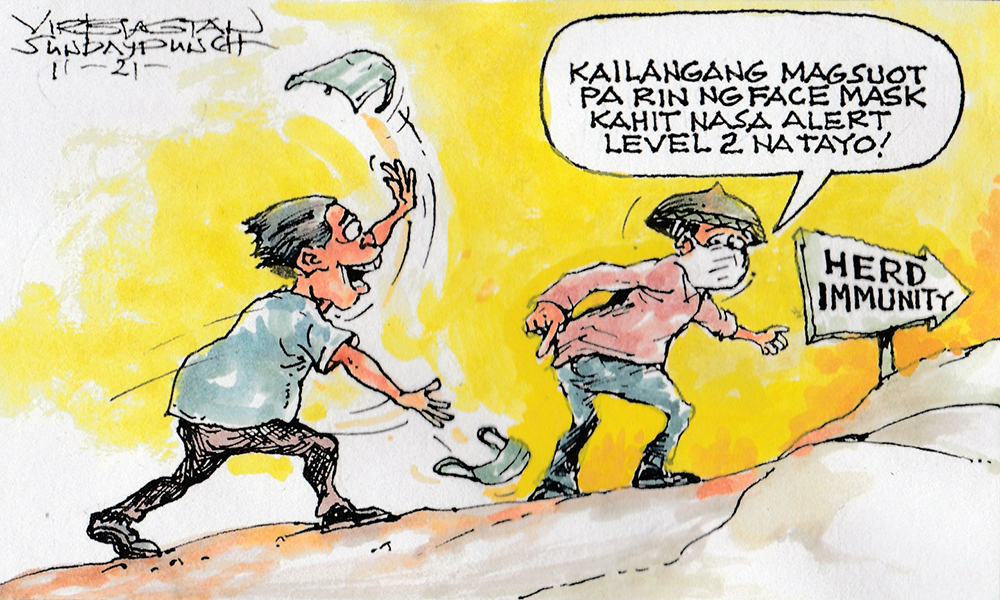 THE lifting of the mandatory wearing of the face shield and downgrading alert levels in the Pangasinan and in other provinces to Alert 2 are unmistakably positive directions toward normalcy, or a definite shift to the New Normal, with emphasis on "normal".
These policies have since resulted in relaxing the restrictive measures that were adopted earlier to counter recent surges in confirmed COVID-19 cases.
While these policies are welcome at this time as the government tries to restart both national and local economies, let us take news reports today of countries bracing themselves of new surges in active cases, considering reverting to hard lockdowns, seriously. These were the same countries that reported to have achieved herd immunity after reporting more than 70% of their qualified population have been successfully vaccinated.
Surely, what's happening to them can happen to us overnight.
The lesson from the other countries' misfortune is simply this: herd immunity is only possible with responsible individuals that value it. It means everyone must continue to be cautious, alert and conscious of need to be protected in all situations, both within our families and outside our homes.
It'd be prudent, therefore, for our provincial and local governments to keep the strict enforcement of wearing face masks at all times, and to continue to ban big assemblies or gathering of crowds in one area.
Convicted
WHAT is stopping the Comelec (Commission on Elections) from disqualifying Bongbong Marcos as a candidate for president on May 9, 2022?  The facts are as palpable as rivers irreversibly emptied into the sea. One, Marcos was convicted for tax evasion in 1995 by a lower court.  The verdict was upheld in 1997 by the Court of Appeals. The conviction carried a penalty of perpetual disqualification for the dictator's son to hold either an elected or appointed position in government.  Two, when filing his Certificate of Candidacy in October, he lied when he answered "No" to a question if he was convicted of a crime. That is another ground of disqualification. Three groups have so far petitioned the Comelec to enforce the ruling without delay.  What is there to discuss about, in the first place?  Facts never lie.   He was convicted.  He lied.
For once, why can't the Comelec act with dispatch? Just plain crazy.
Share your Comments or Reactions
comments
Powered by Facebook Comments