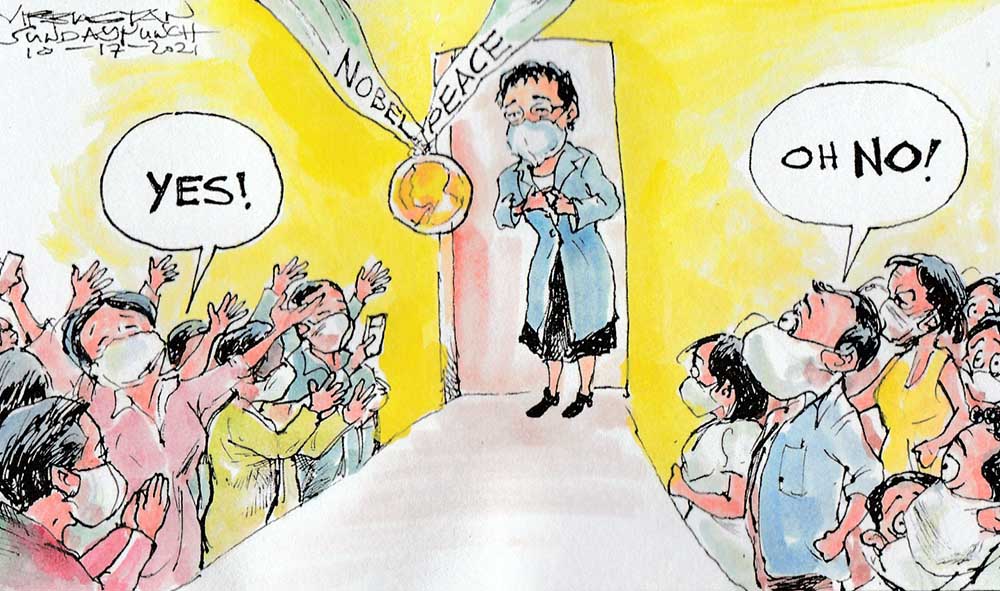 LAST week, the news about Rappler's CEO Maria Ressa being named a Nobel Peace Prize winner for her work in journalism was met with both applause and shock, depending on one's political inclination. In short there was no national jubilation that could come close to Hidilyn Diaz's triumph as the first Filipino to win gold in Olympics in spite of Ressa being the first Filipino acclaimed as Nobel laureate.
Those who applauded were mainly those who took her articles critical of the Duterte administration as true and justified since they served the destabilization efforts of the political opposition. Because they hate Duterte the foul-mouthed mayor from Davao City who doesn't deserve to be the president.
Those who were shocked were mostly journalists who saw brazen lies through her articles and statements, disparaging Philippines' image as a country, as a government and as a people.
Among her shameless brash lies are her claim that press freedom and freedom of expression in PH are under siege, that there were 30,000 extra judicial killings in the drug war, ABS-CBN was closed out of political vendetta, that it was government that charged and convicted of committing cyber-libel. Nothing can be farther from the truth.
Now comes Ressa's cohorts in the Senate insisting that she be awarded the Senate's Medal of Honor for her recent feat, simply for being named a Nobel laureate, never mind what most of journalists in the country thought of how she won the recognition.
To award her the Senate would be another slap to the face of Filipinos who know and are aware of the truth about her – it's about entitlement for journalists of her kind.
Democracy
FOR the record, a total of 97 have filed their certificates of candidacy for president in the May 9, 2022 elections.  For vice president, 29.  And for senator, 176.  Why too many aspirants when we need only one president and vice president to lead our country?  And the senate has only 12 vacancies available?  Stop complaining.  That's democracy, a system that safeguards freedom of choice.  But our Constitution provides that nothing is absolute.  Thus, you can run for president or any elective post, but you may not be allowed since you could be deemed a nuisance candidate—one without money to finance your campaign, or one with an unstable mind, or one obviously running just for kicks, or simply making a mockery of the electoral exercise.  The Comelec tasked to conduct next year's polls will decide with finality those qualified to run.  It's a job not normally envied by anyone.
Again, part of the democratic process.
Share your Comments or Reactions
comments
Powered by Facebook Comments