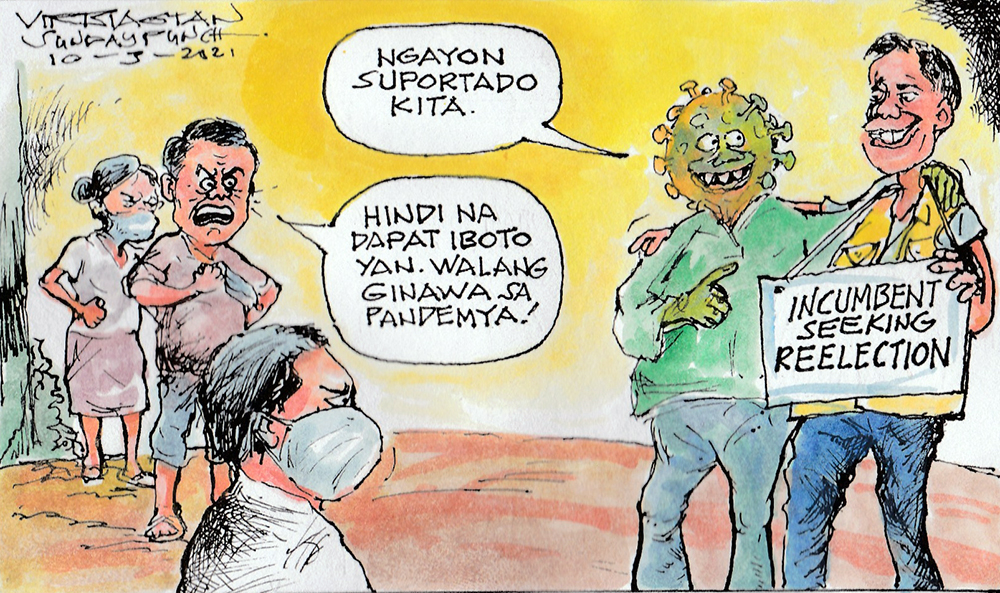 Candidates for the New Normal
ELECTION of national and local elections in 2022 will be like no other.
It is certain that all candidates that will be voted into office will have to face new challenges in the first three to six years of the New Normal.
It is for this reason that communities must view prospective candidates that will file their respective certificates this week from that standpoint – the New Normal!
It will be foolhardy for residents to continue voting for candidates that paid them the highest for their votes, for the more popular with no experience or credential to show he or she is capable to confront new and extraordinary challenges.  Expect no real help.
The incumbents seeking reelection are either doomed or assured of their reelection because of their performance during the pandemic since it started in 2020.  Woe are the incumbents  suspected of cheating others of their special amelioration fund, distributed food packs that prioritized political allies, refused to risk strictly enforcing health and distancing protocols that caused continued surge in COVID-19 cases in their communities.
Candidates who performed creditably who actively assisted communities in their hours of need during the pandemic will undoubtedly have an advantage for their tested dedication to public service. Candidates who were indifferent to the plight of frantic residents or made no effort whatsoever to mitigate difficulties suffered by residents can kiss their bids goodbye.
It's time to give back to the those who care, and time for payback to those who exploited the pandemic.
Pacquiao's next fight
FOR so long, Manny Pacquiao has been serving two masters: boxing and politics.  But he can't forever be the fighting senator and a public servant at the same time.  He has to choose as "one cannot serve two masters at the same time" with equal success. And so, after losing to Cuba's Yordenis Ugas last August 22, Pacquiao, 42, left boxing on September 29 to concentrate on politics.  A fiercely ambitious person, Pacquiao the billionaire, so rat-poor in his teens that he worked menial jobs to survive, plans to capture Malacanang in May 2022.  His dream of a lifetime will be known on or before October 8, the last day of filing of the certificate of candidacy for president.  But unlike boxing, his presidential bid is a totally different fight that he has no complete control of.  Here, no right hook for him, no left straight, no uppercut.  The people's vote is what he needs to win.  Good luck.
Share your Comments or Reactions
comments
Powered by Facebook Comments