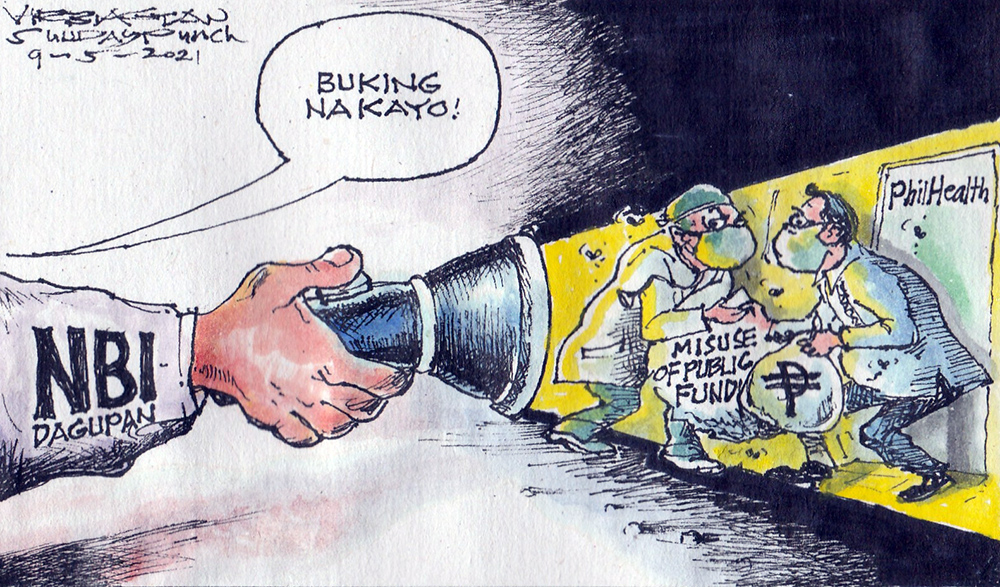 Kudos to NBI Dagupan District
THE known public "secret" about the suspected collusion between PhilHealth officials and some hospitals over the misuse of public funds for COVD-19 treatment, the same problem that led to the national government's nightmare amid the pandemic, is finally out.
The National Bureau of Investigation office in Dagupan City, on the direction of the Department of Justice, succeeded in ferreting out crucial facts that led to the massive hemorrhaging of funds at PhilHealth, and sent its complaint against PhilHealth officials who allegedly lent their authority for the prompt releases of funds to dubious claims of hospitals, and hospital officials who must bear the responsibility for the fraudulent practice.
The scavenging of the PhilHealth funds for COVID-19 pandemic not only practically paralyzed efforts of the government to come to the rescue of COVID patients because a big number of hospitals who had submitted factual cases could not be paid, and have since threatened to stop accepting COVID patients.
The NBI complaint should serve as a lesson to medical institutions and practitioners that they cannot exploit a seeming loophole in the bureaucracy and get away with it.
The NBI Dagupan District office, led by Agent-In-Charge Rizaldy Jaymalin, deserves the respect and full support of the public for accomplishing what most doubted will ever be done, and the fund scandal be swept under the rug.
We pray other NBI districts in the country will soon duplicate what the district office in Dagupan did in Region 1.
But the process of making responsible officers and personnel of PhilHealth accountable has only just begun. Let us pray the Ombudsman will act on the complaint with dispatch.
Perilous Pacquiao
IF reports are true that Manny Pacquiao is willing to run as an independent in the presidential election next year, that will be like digging his own grave.  Perilous Pacquiao in the making?  But isn't he the president of one wing of the PDP-Laban party?  So why is that?  Is it because the PDP-Laban is experiencing a major upheaval for having two factions, with Energy Secretary Alfonso Cusi heading the other bloc?  Cusi is backed by party chairman President Duterte, with Pacquiao having Sen. Koko Pimentel to watch his back.  Koko, chairman of the Pacquiao wing, is the son of PDP founder Nene Pimentel (+).  Will the Comelec decide this month on which wing to anoint, or toss the issue to the Supreme Court?  But by declaring his willingness to run for president as an independent, Pacquiao has exposed a chink in his political armor.  Only a greenhorn acts that way.
Share your Comments or Reactions
comments
Powered by Facebook Comments