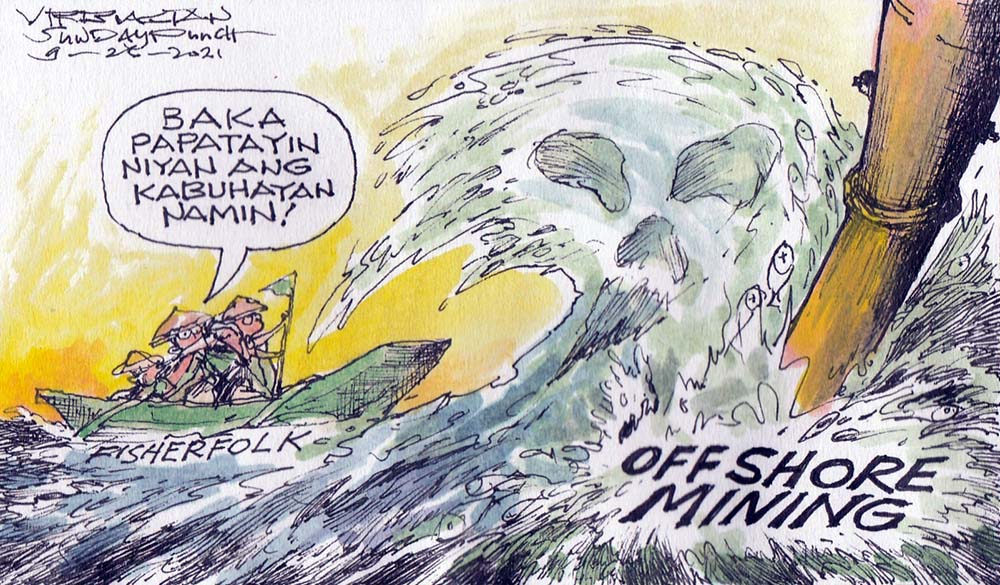 Imminent danger in the sea
THERE is an imminent hazardous economic activity looming ahead for the province's next generations. We refer to the offshore mining activity covering 10,064 hectares of the Lingayen Gulf fronting Sual, Labrador, Lingayen, Binmaley, Dagupan City and San Fabian.
Unless the Iron Ore and Vanadium Resources (Phils.), the mining proponent, can show that a mining activity at the gulf will not affect the environment that can lead to daily fish kill in the sea and eventually deprivation of livelihood, it behooves the provincial and the six local governments to vigorously object to mining at the Lingayen Gulf.
The application for ECC for the Pangasinan Offshore Magnetite Project cannot and should not be viewed as just another mining activity like those in the mountains. The activity will definitely disturb and impact on the sustainability of the environment in the sea.
The provincial and local governments must not only look into the company's experience and capability to prevent and or minimize destructive impact but to demand mitigating factors to ensure fishing for food and livelihood of fishermen in the six localities are protected, if not enhanced, with technology.
Additionally, the provincial government must append a provision in the issuance of the  environmental compliance certificate (ECC) that will demand for compensation should a serious impact on the environment result from the mining. Apparently, only the cancellation of the ECC will be done as penalty for violation of its terms after the irreparable damage has been done.
However, objections merely based on fears will not likely be given weight so it's imperative that the provincial government submits scientific data to support its fears.
Sara's sweet time
SARA Duterte is biding her own sweet time.  She can afford it as she is your virtual defending champion—her father, Rodrigo, being the incumbent President.  Three of Sara's foes had declared their readiness to gun for the Palace in May 2022. First was Ping Lacson, the former chief of police, followed by Manny Pacquiao, boxing's only 8-division world champion.  Early this week, Isko Moreno, the former scavenger now Manila mayor, joined the fray. Leni Robredo, the widow from Naga City, and Sonny Trillanes, the rebel without a cause, might do it between October 1 and 8, the dates set for the filing of candidacy?  If yes, Sara's five foes will end up scrambling for opposition votes.  A pity because each will end up with mere pittance votes against an avalanche of administration votes going Sara's way on May 9.  What happened to 1Sambayan's much-bandied battle cry of one bet to unite the opposition?  All sound, no fury?
Share your Comments or Reactions
comments
Powered by Facebook Comments