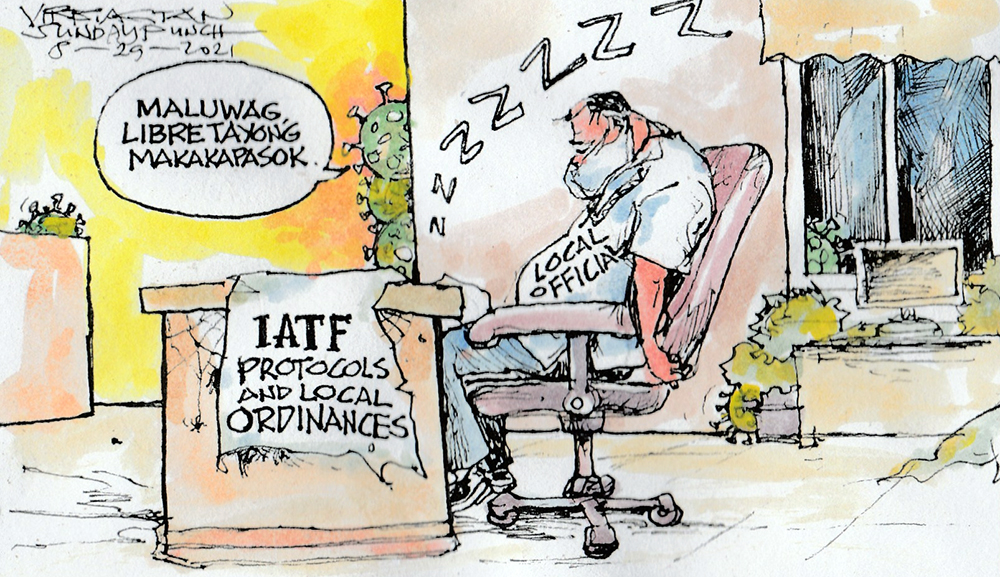 When rules are not backed by action
PANDEMONIUM has set in and nothing seems to work in reining in the seeming runaway contagion.
Has the COVID-19 virus just suddenly become highly infectious that people are catching the virus from everywhere, and more people are being rushed to the hospital, more people are dying? No.
Or, are we seeing the results of general complacency that grew in local governments and in communities over the past months, that talks about the serious risks of infection and deaths of COVID-19 have numbed both local officials and residents over the past months? Yes.
Is today's crisis situation the usual result of ningas cogon that we always see each time when rallying communities to correct an emergency? Yes!
We've long known that the COVID-19 virus is highly transmissible, whatever variant we've come to know.  The general strategy of government addresses the possible causes of infection – contact-tracing, mass testing health and distancing protocols, improved personal hygiene, and now vaccination rollout.  Above all, we all knew there was and still is no cure for the infection except through interventions. So let's not blame the virus.
So what went wrong? We pose these questions to bring us all back to where we started and discern what caused today's pandemonium and deadly, widespread infection.
Bottom line: We say the core of our problem was our local officials lax enforcement of  IATF-issued protocols and local ordinances that were passed to reinforce these. The rules were never seriously backed by action.
The right thing
IT took the Taliban, a super-conservative Islam sect, 20 years to defeat the American-backed puppet government of Afghanistan early this month.  The swift fall of Kabul did not surprise U.S. President Joe Biden.  He blamed it on the Afghan president quickly fleeing the country after the withdrawal of American troops. Some sectors criticized Biden's decision to abandon Afghanistan.  But Biden did the right thing.  More than 3,000 Americans have already died since the U.S. drove the Taliban out of power in 2001, costing America some $3 trillion dollars.  "I don't want a fifth [American] president (Bush, Obama and Trump had preceded Biden) supporting this conflict," said Biden.  "We didn't go to Afghanistan to nation-build…It's the right and responsibility of the Afghan people alone to decide their future." Isn't he talking sense?  It's a pivot rarely seen from the leader of the world's most powerful country.  Commendable.
Share your Comments or Reactions
comments
Powered by Facebook Comments