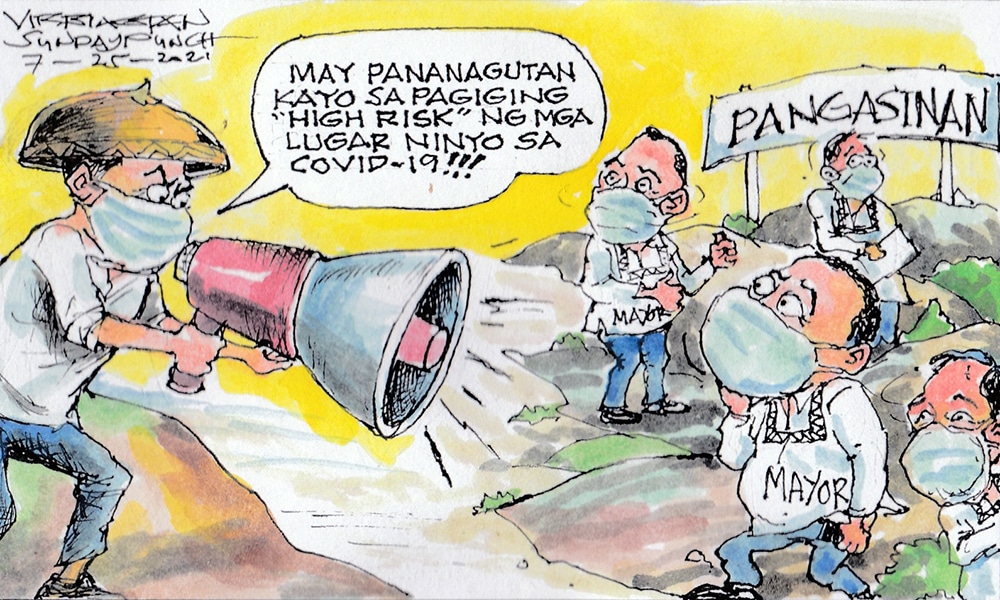 Paging Mayors of "High Risk Areas"
PERHAPS the tag "epicenter of COVID-19 contagion" assigned to a town and city did not mean much to mayors because it can't possibly be appended to more than one town or city. Woe is the flavor of the month.
The past week, the Inter-Agency Task Force (IATF) for the Management of Emerging Infectious Diseases apparently changed tactics, dumped the "epicenter" and bandied instead "high risk areas" to denote danger zones in the campaign to check COVID contagion.
In Pangasinan, the four cities and six municipalities have been assessed to be equally high risk areas. It infers mayors of "high risk areas" are put on notice and the alarm bell is sounded to warn their populace of presence of COVID carriers among them.
So on behalf of their constituents, let's make the following mayors accountable for their cities/towns status as "high risk areas": Alaminos City Mayor Arth Bryan Celeste, Dagupan City Mayor Marc Brian Lim, San Carlos City Mayor Julier Resuello and Urdaneta City Mayor Julio Parayno III;
Bolinao Mayor Alfonso Celeste, Labrador Mayor Dominador Arenas, Laoac Mayor Ricardo Balderas, Mabini Mayor Ariel de Guzman, San Manuel Mayor Kenneth Marco Perez and San Nicolas Mayor Alicia Primicias.
Their constituents deserve tangible, timebound targets and courses of action for their welfare and protection. The period of motherhood statements of commiseration that cannot prevent deaths in the family are over.
At the very least, the rate of confirmed COVID cases in their cities and towns cannot be reported to be higher than what had occurred in the past two weeks because that would be tantamount to abandonment of the duties and responsibilities that their offices mandated in their oaths.
They should be the first to acknowledge that the worst and most credible attack on their performance is to be blamed for making their towns and cities as "high risk areas" for the longest time that resulted in needles deaths of constituents a.k.a voters!
Towards this end, The PUNCH will call out mayors of "high risk areas" regularly as determined by the Regional Epidemiology Surveillance Unit (RESU).
Addition, subtraction
POLITICS is addition?  Not always.  Politics is also subtraction as history would tell us.  And, sometimes, like addition, subtraction could also spell victory.  Marcos had subtracted himself from the Liberal Party and added himself to the Nacionalista Party, resulting in his (unfortunate to the country) victory in the 1967 presidential election.  Fidel Ramos did the same in 1992, bolting the ruling party then headed by the late Ramon Mitra.  Ramos, who lost to Mitra in the convention that year to select the party's presidential bet, went on to succeed Cory at Malacañang in 1992.  It's happening again. Manny Pacquiao just got himself subtracted from the PDP-Laban when the party convention removed him as party president on July 17. If that subtraction would mean victory for the PDP-Laban bet against perceived presidential candidate Pacquiao in 2022, history will be the sole judge.  Suspense.
Share your Comments or Reactions
comments
Powered by Facebook Comments