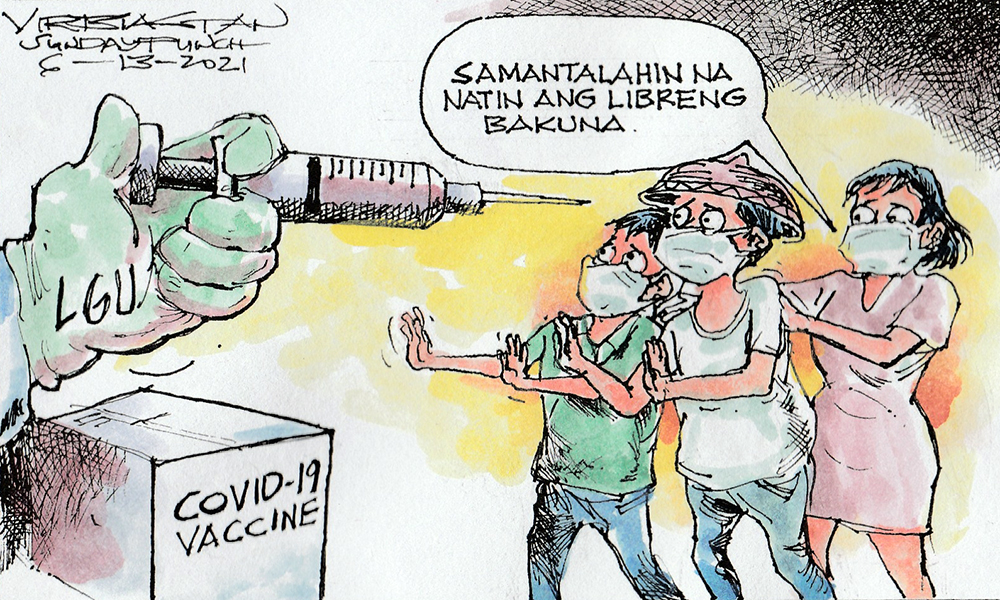 Nothing is certain in this pandemic
THE reported temporary suspension of inoculating Dagupeños with their first dose of the anti-COVID-19 vaccine didn't really come as a surprise. It had to be expected, and should be expected to happen again in the weeks ahead, not only in the city but in all other vaccination sites in the province.
It is for this reason that no one should take the availability of free vaccines being offered by the national government for granted. There is simply no certainty about anything in this pandemic. If anyone misses his or her turn for the inoculation, there is the probability that the privilege of having a free vaccine will have to end and people who missed their turns will eventually be made to pay for their vaccines.
Fortunately, the arrival of the fresh supply of 4,000 vaccines a day later after the suspension was made public during a committee hearing on the vaccination understandably brought relief to the city government. A longer suspension would have increased risks of more infection in the city.
The decision of some in the private sector to voluntarily purchase their own supply of vaccines to be administered to their employees augurs well for the efforts to develop a herd immunity. The government simply cannot do this alone.
But as the rollout continues, our local governments should not relax their guards in the enforcement of the two critical protocols – health and distancing. The tendency of thousands that already received their jabs is to stop wearing their masks as a "badge of honor" that they are no longer carriers, forgetting that they remain vulnerable to Covid infection until they get their second dose.
Anti-Covid marshals in our barangays should continue to be vigilant and strict to help restore confidence in those who have yet to receive their first dose.
Mismatch
IT was a mismatch if only because President Duterte is a lawyer to begin with.  Sen. Manny Pacquiao is the world's only eight-division champion but that's immaterial. This is not boxing, where you use hands to beat your foe.  This is a verbal clash, where intellect decides the winner.  Said Pacquiao: "I disagree with his [Duterte] assessment of my understanding of foreign policy." That was his counterpunch to Mr. Duterte's stinging jab: "This guy [Pacquiao] has a very shallow knowledge of foreign policy." Earlier, Pacquiao said: "We have heard him say that he was going to ride a jet ski carrying the Philippine flag to the Spratlys." Anyone believing that is an idiot. The President said so himself.  The President's knockout punch? "I wouldn't want to degrade him, but this is foreign policy. Next time, he should study hard before coming in."  Wasn't Pacquiao knocked out by Juan Manuel Marquez?  Careless.
Share your Comments or Reactions
comments
Powered by Facebook Comments