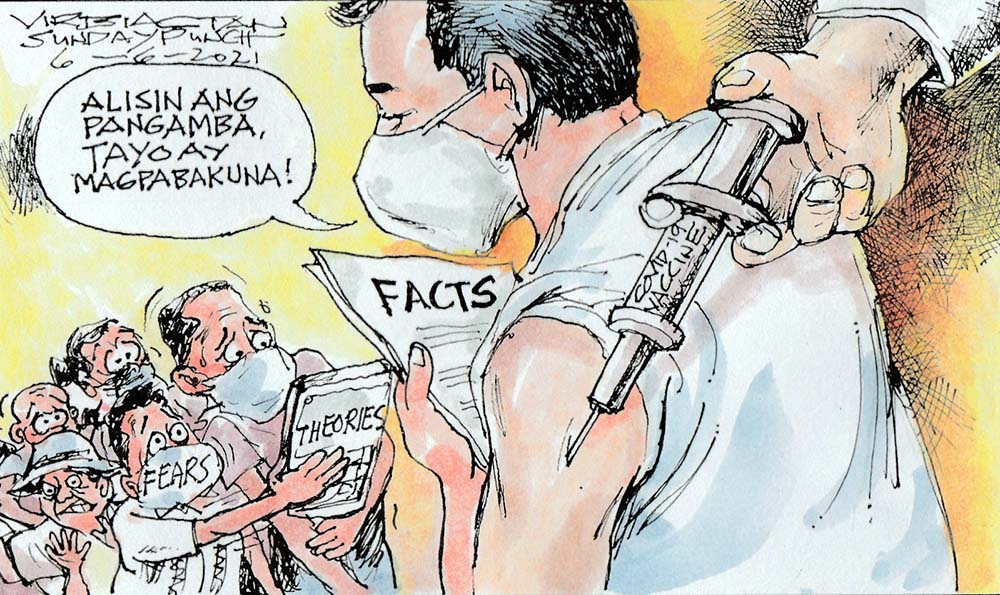 Fears, theories about COVID vaccines vs. facts
THE reported reluctance still of a little more than thousand employees of the provincial government to accept the vaccines reserved for them is understandable.
There have been numerous articles and stories from supposedly renowned medical practitioners in the world about risks involved in the chemical contents of vaccines posted in social media that pointedly threatened and created fears of depopulation among citizens of the world.  These are part of the reported conspiracy theories but whose proofs cannot possibly be known till after a year of two of the roll out.
Meanwhile, there are known impact and causes of deaths of COVID-19 across the globe. Curiously, that fact doesn't seem to concern the reluctance among our non-believers on the purpose of the vaccines.
It is a fact that 3.6-M citizens across the globe have died because of the disease over the same period – all because they failed to get their vaccines in time, contract tracing failed in many communities, there were not enough hospitals to treat them.
It'd be wise to relate the impact of the 3.6 million deaths to another perspective – relate those deaths to the population of Pangasinan.  As of 2016 statistics, Pangasinan has a population of 2.8 million people. Figuratively, there would be no life in Pangasinan today if those global deaths had occurred here.
Still, a reality check close to home, Pangasinan shows 389 already died because they did not have the minimum protection that the vaccines provide. The non-believers in vaccines cannot ignore the fact that if they don't get vaccinated, they too, can die all because they rejected the privilege being extended by the government to be vaccinated early on.
Vaccinetives'
THOUSANDS have died already from COVID-19 and yet, many Filipinos are still hesitant to get vaccinated against the virus.  Many more refuse inoculation.  To arrest this, lucrative prizes are being dangled to attract vaccinees.  In Muntinlupa, it's a 25-kilo sack of rice to a raffle winner.  In Santa, Ilocos Sur, Mayor Jesus Bueno Jr. is giving away restaurant discounts, a sack of rice and, yes, a house and lot.  Las Pinas Rep. Camille Villar has also put up a P1.5-million house and lot raffle in December, plus two motorcycles.  Monthly starting in July, Villar, a child to billionaire parents, is also handing out P5,000 worth of gift packages each to 50 raffle winners.  Science tells us that COVID-19 can be stopped through herd immunity—the vaccination of 70-80 million of our 108 population.  "Vaccinetives" can, indeed, help us achieve this.  Let's support it.
Share your Comments or Reactions
comments
Powered by Facebook Comments