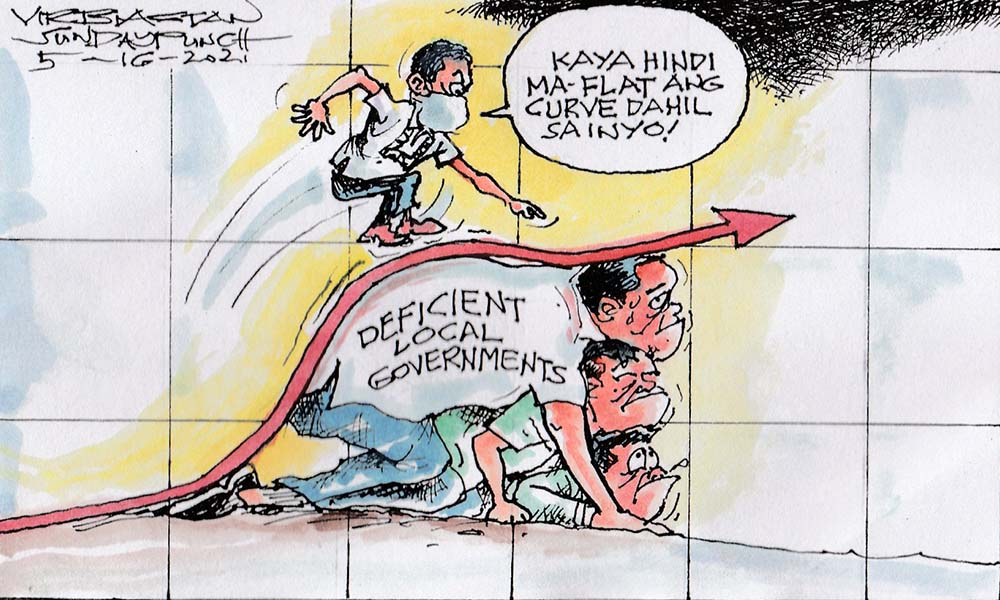 Missing objective: To flatten the curve
COMPARED to other provinces in the country, the Espino administration has been most impressive in its handling of the COVID-19 pandemic in the province. However, we sense that the call and initial rally to "flatten the curve" is lost in the din of daily exercise of  merely counting numbers of cases, recoveries and deaths.
There is no doubt that the provincial government has achieved much in achieving a higher rate of recovered cases but new confirmed cases continue to surface. Is the new objective today, merely to close the gap in the numbers between new confirmed cases and recovered cases?
What happened to the initial objective to make Pangasinan COVID-free soon?
Based on data released by the Provincial Health Office, basically the same towns and cities are reporting new confirmed cases. If the Espino administration wants to flatten the curve soon, it must keep its eyes glued on the deficient local governments in the province.
It is no longer enough for the Espino administration to simply watch and wait for the mayors of the poor performing towns to stop reporting new confirmed cases. The continued reporting of new cases can only mean two things: Poor enforcement of health protocols in barangays, and lack of focus on contact-tracing.
To finally flatten the curve, the Espino administration must to do more than what it is currently doing today. It should consider creating Special Task Forces that will be assigned to deficient towns and cities, to work with mayors in identifying loopholes and applying pressure in the enforcement and implementation in the barangays. Unless mayors get pressure from the provincial government, the former will continue to be reluctant to act for political reasons so the Special Task Forces can save the mayors that political dilemma.
In Guv Pogi's world of basketball, its' called "man-to-man" guarding.
Learn from history
SEN. DICK Gordon and Sonny Trillanes said they would run for president on May 9, 2022.  Gordon, who lost as a presidential wannabe in 2010, is a sitting senator. Not Trillanes. Even as Gordon is with the ruling coalition headed by President Duterte, he would sometimes speak his mind deviating from party lines.  Trillanes has been a rabid anti-Duterte since he was rejected as Mr. Duterte's running mate in 2016.   Or are they are just testing the waters?  Now look at Manny Pacquiao.  An incumbent senator, Pacquiao has not declared any presidential plans. But his self-promotional thrusts on social media obviously point to that.  The deadline for filing of candidacy for next year's polls is on October 8, 2021.  Until then, everything is up in the air.  Beware guys. Learn from history. Early birds always lose.
Share your Comments or Reactions
comments
Powered by Facebook Comments