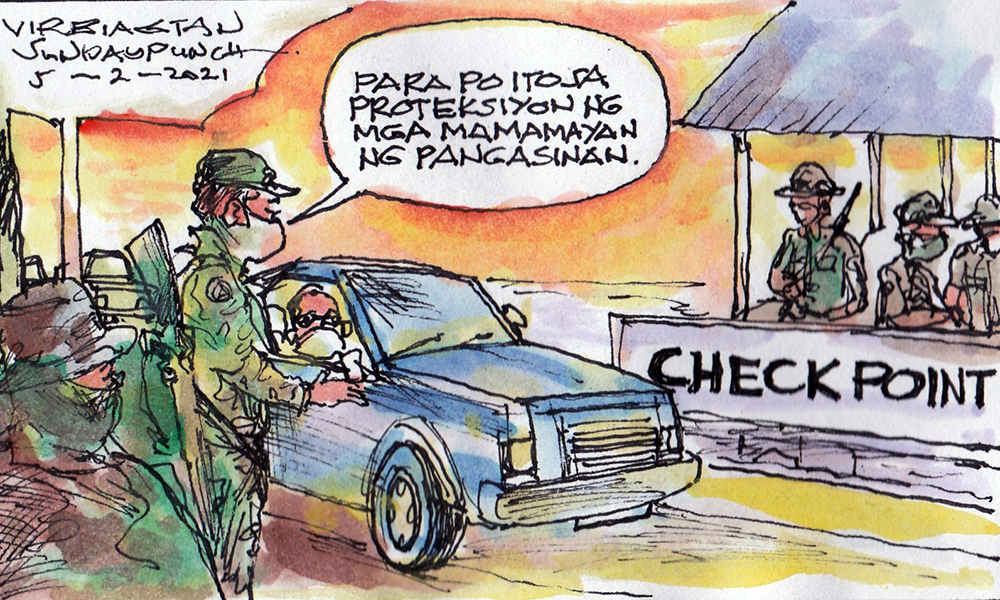 Let the strict border entry policy remain
IT is understandable when Pangasinan's officials complain when they and their constituents suffer some inconvenience out of ordinary situations.
The recent complaint manifested by two board members, Fourth District Board Member Jeremy Agerico Rosario and Sixth District Board Member Noel Bince, last week about how the strict policy being employed by border checkpoint guards at the Carmen checkpoint kept them and their constituents waiting to pass through the checkpoints, and being made to respond and prove that their purpose in entering Pangasinan is essential.
Indeed, the inconvenience being served may be contrary to the Modified General Community Quarantine status of the province, encouraging a more relaxed atmosphere in our communities, particularly to help boost efforts to re-charge our local economy.
But the rationale behind the continued implementation of strict requirements for travelers from the National Capitol Region +, is separate and distinct from the MGCQ status. The move of our provincial IATF is clearly motivated mainly by urgent need to protect local residents from being infected by the COVID -19 virus that recently saw a surge in the pandemic's contagion in that region. Worse, confirmed COVID patients from NCR+ were already reportedly sneaking in, seeking medical treatment in the province's hospitals.  If not checked, more entries of confirmed patients from NCR will not allow provincial government to effectively implement its contact-tracing system in place.
The inconvenience suffered by residents (and government officials) today at the border checkpoints is certainly a small but critical response asked of everyone to stave a possible surge in the province because of a relaxed entry policy.
Let's do all to save our residents from possible infection even by this little convenience.
India in agony
LIFE, indeed, is an irony.  Take India.  It is the world's biggest producer of vaccines for the COVID-19.  And yet, it is now the worst hit country globally by the pandemic.  Latest data show that India's toll from the coronavirus breached the 200,000 mark on April 28—with two Filipinos dead in New Delhi. It is the country's deadliest day yet since the coronavirus started afflicting mankind in March 2020.  Not only is the shortage of medical supplies hounding India grievously but also the lack of oxygen and hospital staff.  Patients just die at hallways/corridors of many hospitals that are packed to capacity.  Parking lots have been transformed into crematoriums. Nearly 400,000 new cases were recorded this week for a brutal tally of nearly 18 million infections.  That's more than triple of New Zealand's population of 4.917 million as of 2019. Mother Teresa of Calcutta must be weeping in her grave.
Share your Comments or Reactions
comments
Powered by Facebook Comments