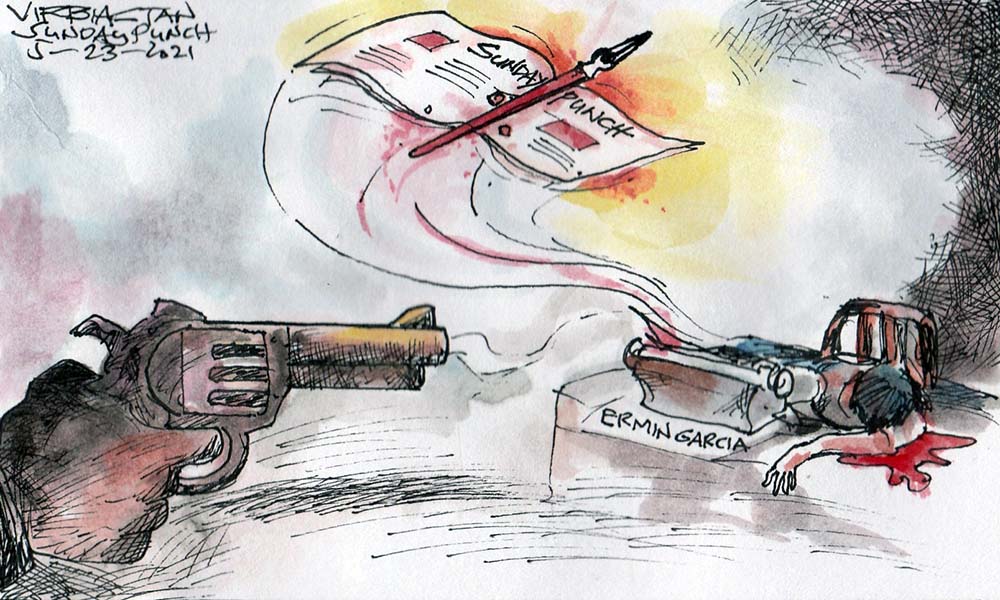 Bullets didn't stop The PUNCH
IT was May 20,1966, a rainy afternoon and the Sunday PUNCH was well on its 10th year of publishing. It was the day a corrupt politician in Lingayen decided the newspaper must stop to exist because of the truth it sought to publish every week.
Ermin E. Garcia, The PUNCH's  founder-editor-publisher, had just finished editing the news story on a payroll padding racket in the capital town of Lingayen involving a municipal councilor, submitted by his reporter Rod Toledo. The story merited a headline treatment.  But as fate had it, Councilor Soriano who got wind of the news story about to be published in the next issue of The PUNCH, decided the news story should not be published.
Soriano, armed with pistol, went to The PUNCH office, accompanied by two-three lookouts, confronted Garcia and demanded that the news story about him should not be published.
When Garcia refused to kill the story, Soriano pumped three bullets into his body believing that his death would stop the publication of the news on corruption. What the politician failed to see was the vision of Ermin Garcia – that truth and press freedom do not end with one's life, only that "a hero newspaperman is a dead newspaperman."
This year, The PUNCH commemorates  the 55th year of the day our founder was murdered in our editorial office by a corrupt politician whose bullets did not stop The PUNCH in pursuing its avowed mission to the communities in Pangasinan – to serve the truth.
The memory of Ermin E. Garcia and his vision will continue to inspire us in our modest newsroom guided by his adopted philosophy by Socrates, whose quote is emblazoned on  The PUNCH's masthead – "No man is to be reverenced more than the Truth."
Herd immunity
THERE are 2.5 million or so Filipinos nationwide already vaccinated since inoculation started on March 1 this year. That's 67.5 million short of the targeted 70 million for vaccination from among our 108-million population to achieve herd immunity, a scientific basis to keep us all safe from the deadly COVID-19 virus.  Herd immunity happens when 60-70 percent of our people are vaccinated, rendering the virus extinct in no time.  Barring a major glitch, our leaders hope to complete the vaccine mission by year end, clearing the path to normalcy starting in 2022.  We, therefore, command every Filipino of right age to get vaccinated immediately as every minute wasted gives the virus a chance to wreak further havoc.  Quit hesitating as that's prolonging your precious shot at life. The best vaccine is the first vaccine available.  Vaccine delayed is good health denied.     
Share your Comments or Reactions
comments
Powered by Facebook Comments