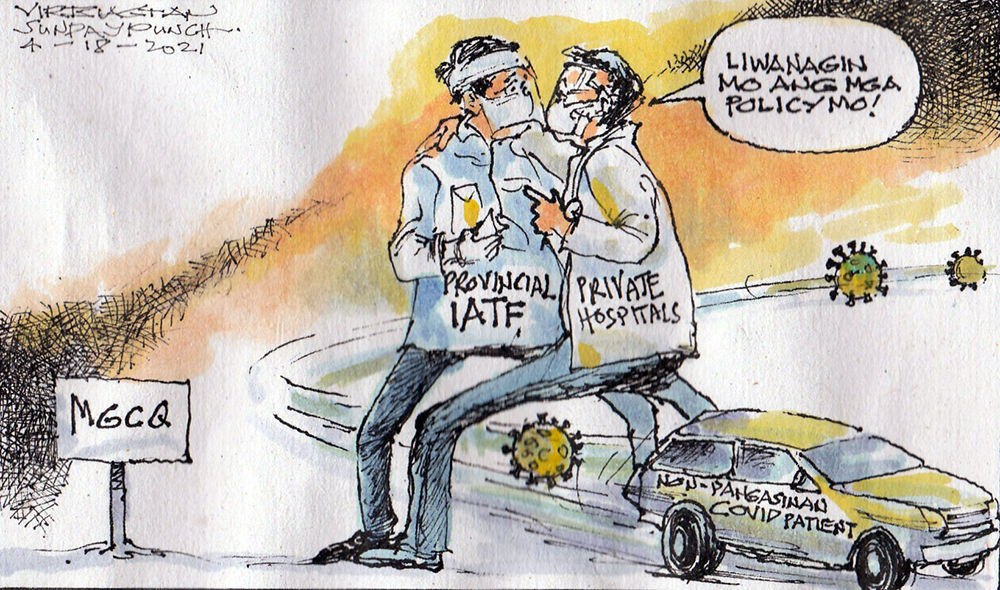 Quo vadis, Provincial IATF?
THE conflicting policies in the campaign vs COVID-19 in Pangasinan are suddenly becoming evident (and alarming), indicating to us that the worse is yet to happen.
Obviously through no fault of the provincial government, we have a dire situation where the province's provincial IATF is caught between the devil and the deep blue sea.  Initially, the provincial government appeared to be in complete control until the situation in NCR+ warranted an Enhanced Community Quarantine category. Then everything turned upside down for the provincial government.
With the totally unexpected admission of confirmed cases from NCR+ overnight in most if not all of private hospitals in Dagupan City, the provincial government was suddenly unprepared for a crisis that has been warned of months ago. The provincial IATF had just confidently opened the province's borders to visitors from within the region under the MGCQ banner in a bid to reopen the economy, and which in turn prompted police borders to relax their guard.
Today, the national IATF finds its policy pitted against the reported so-called directives of  affiliate hospitals of city hospitals to accommodate all references made by them regardless of IATF policies and protocol. Now comes the contentious issue is: who and what takes precedence in the control and management of the pandemic in Pangasinan? Is it the hospitals? The provincial government and its IATF?
Until the purposes and objectives are reconciled by the provincial IATF and the private hospitals operating in Pangasinan, there is no bright light seen at the end of the tunnel. In the same breath, it is also fair that the private hospitals know their boundaries on what's expected of them to protect the province's constituents before other provinces' constituents. This is a race against time. The sooner it is resolved, the better for all.
Best vaccine
VACCINE hesitancy still rents the air.  But not in Metro Manila anymore and in the provinces of Bulacan, Cavite, Rizal and Laguna, as surveys show.  Information dissemination has been the key in convincing the urbanites to take the jab as fast as they can.  No doubt, the debate on the vaccine's efficacy to prevent the COVID-19 infection still rages on. But any vaccine is a shield against the deadly virus. And in the NCR+ bubble, the urgency for mass vaccination has never been that palpable. The reason is simple: all the world's experts agree that any vaccine protects you from the virus by 83-97 percent. In short, while the virus kills, not the vaccine.  And no need to be choosy.  The best vaccine is the first one available. To our public servants nationwide, do your job, please?  Educate your constituents. Now.
Share your Comments or Reactions
comments
Powered by Facebook Comments