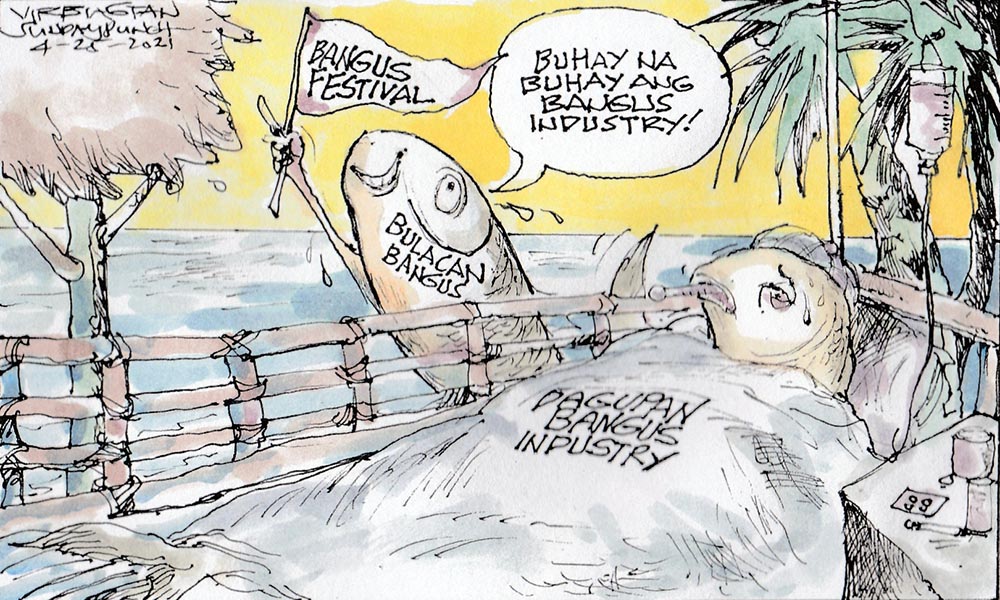 Coming soon: Bulacan Bangus Festival
WHAT is the Dagupan City government up to this time, insisting on the resumption of the annual celebration of the Bangus Festival amid the Covid virus pandemic?  The motivation to hold it at this time is definitely cause for alarm and suspicion.
The Covid pandemic continues to require strict enforcement of health protocols. A festival activity will necessitate the convergence of people in one area and that alone will directly counter efforts of both the national and provincial government to avoid gathering of more than 50 persons in one place at any given time.
Is the April 30 celebration of the Dagupan Bangus Festival a continuation of the city government's policy promoting vendors' business like it did during the Holy Week, this time for the Bulacan bangus traders? Fortunately, city residents saw through that ill-motivated policy of keeping Tondaligan Beach open for the vendors' sake. No one came to the beach, not even the occupants at the city hall.
And why is a Bangus Festival that's meant to promote Dagupan bangus going to be celebrated when the city's bangus industry is literally lying on a sick bed after the Lim administration allowed the unabated smuggling and entry of Bulacan bangus into the city?
It appears that the Lim administration is not really keen on holding the festival for the Dagupan bangus industry. It has not even announced the activities of the festival which normally are announced six months prior.
Hence, we have reason to believe that is merely a ploy, funded by the Bulacan traders, to give the public the impression that the Dagupan bangus industry is well and alive and to cover up the massive corruption that's killing the Dagupan bangus industry.
Should the Dagupeños welcome the Bulacan Bangus Festival?
Non new hero
ASK not what your community can do for you but, rather, ask what you can do for your community. That's to rephrase the famous line uttered in 1962 by the late American president John F. Kennedy, who said: "Ask not what your country can do for you but, rather, ask what you can do for your country." Anent to this, Ana Patricia Non deserves the nation's praise.  Her breakthrough initiative of mounting her humble community pantry at Maginhawa St. Quezon City a month back sparked a nationwide movement to help provide free food to our downtrodden brethren.  It's a monumental pro-people effort by a caring citizen to help the community/government address the raging hunger amid the pandemic.  That military officer hitting Non's impactful platform as communist-inspired was below-the-belt. His reckless remarks painted a bad image for the government.  He has no business being a public servant. He ought to be fired.
Share your Comments or Reactions
comments
Powered by Facebook Comments