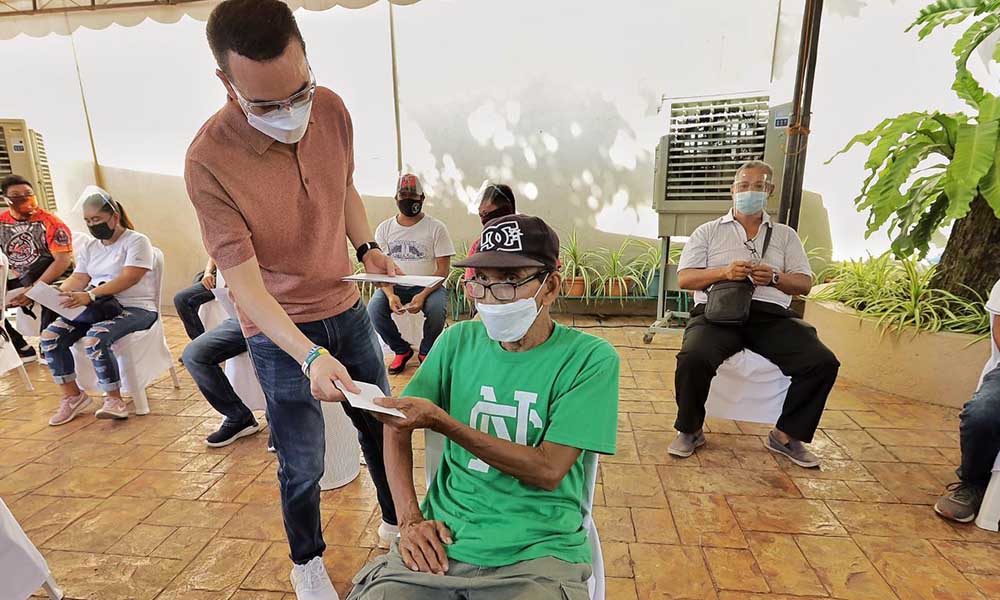 10-K Ayuda program honors barangay health workers
Cong. Cayetano presenting to P10-k ayuda to qualified beneficiary.
IT'S been more than a month when Taguig Rep. Alan Peter Cayetano met with barangay  health workers in Dagupan City and assured them soon he will launch the mechanics of the P10K Ayuda for barangay health workers.
He made good on his assurance when he extended his pet response program to COVID-19 to BHWs in Metro Manila.
BHWs across the country can submit their interests to avail of it through DZRH's Operations Tulong, a partner of the P10K Pag-Asa, aired every day, 9 am -10-am, Monday-Friday.
The Taguig Representative hailed the dedication of BHW volunteers citing their "passion", without expecting something in return and called on local governments to reciprocated by the government.
"I hope ito pong Sampung Libong Pag-Asa can give some hope and some help to all of you," Cayetano told the BHWs.
In Taguig, around 800 BHWs of the City have been elevated to either job order or contractual status. They also receive hazard pay and regular training.
Lyma Rico. and Roberto Beltran, presidents of Barangay Health Workers Federation in Marikina City and Manila City, hailed the Cayetano's extension of the program to BHWs in the country.
Experiences of BHWs he met since he launched the Sampung Libong Pag-Asa program inspired former House Speaker Cayetano to choose 150 BHWs as the latest beneficiaries of their Sampung Libong Pag-Asa program on Friday, September 10, 2021 from the cities of Manila, Marikina, Muntinlupa, San Juan, and Mandaluyong.
"Barangay health workers in most areas around the country cannot subsist on allowances particularly during the pandemic", Cayetano said during the program's Facebook livestream.
Launched on May 1, the provides P10,000 in financial assistance to select individuals affected to help them with their daily needs as well as put up their own small businesses amid the pandemic.
As of writing, a total of 10,458 pandemic-hit Filipinos from different sectors in the country have benefitted from the program.
The Cayetano and his allies in Congress filed a bill on August 31 that seeks to elevate all BHWs from volunteers to government workers and provide them with "sufficient incentives, benefits, and most of all, just compensation". ###
Share your Comments or Reactions
comments
Powered by Facebook Comments