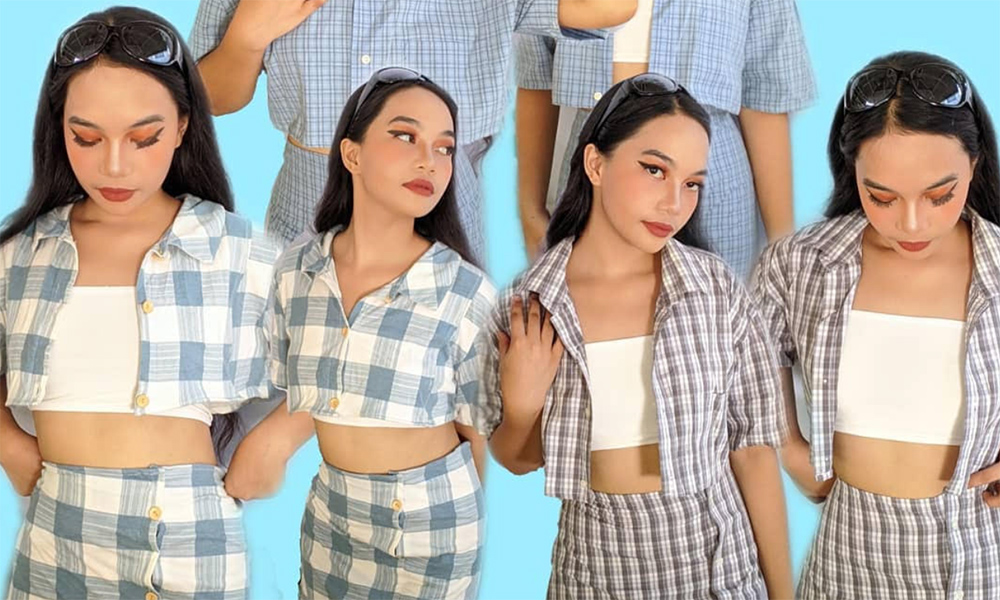 Girl turns ukay-ukay clothes to fashion gems
"Girl turns ukay-uakay" – Jannah Mae models her creations (Contributed)
17-YEAR-OLD ENTREPRENEUR
FROM being an ukay-ukay vendor, a girl from Bayambang now turns her find in a hoard of used clothing to fashion gems.
Jannah Mae De Vera, 17, was only 15 years old when she started working in an ukay-ukay store earning P80 per day, unaware that the labor law bans her from working at that age.
Janna was among the first child laborers identified in the Ilocos region in 2018 when the Department of Labor and Employment rolled out its Child Labor Profiling through its Child Labor Prevention and Elimination Program.
With the help of the Bayambang government, Jannah and her family were assisted through DOLE's Integrated Livelihood Program, so she can stop working. Her parents Oscar and Nova were given a P5,000 starter kit for a sari-sari store.
Clearly an entrepreneur in spirit and a fashionista at heart, she asked for a portion of the sari-sari store's earnings to sell phone cases to friends while tutoring a cousin so she could  own a sewing machine that will help her realize her dream to be a fashion designer.
She now transforms ukay-ukay clothes into stylish, fashionable wears. She buys old, oversized shirts from various ukay-ukay shops in her town, cuts them, reimagines them, and turns them into fashion masterpieces as blouses, skirts, and other Instagrammable outfits she sells through her IG shop @Tropicalvntg.ph with herself as the model.
Jannah learned the basics of dressmaking and fashion design from YouTube. Her items are sold for P150 to P190. She started with 30 items three months ago, and she produces over 80 sets of the fashion wears today and earns as much as P12,000 per month.
Today her family is already involved in it: mother helps in packing the items while her father drives for her whenever she goes for a 'hunt' in ukay-ukay shop. Her elder siblings Angelica, 24, and Gerald, 21, are helping promote and market the clothes.
Her fashion brand has not only reached fellow fashionistas in the country, but overseas. (She recently shipped a package to a buyer from Pennsylvania, USA).
Through it all, Jannah's parents make sure that her education is still the highest priority. She attends daily online classes, completes her modules from morning till 4pm, then works on her fashion business from 6:00 p.m. to 8: 00 p.m. daily.
A Grade 12 honor student at Bayambang National High School, she said she is saving for her college education. "I plan to take up Nursing," Jannah said.
Looking back, Jannah said being a former child laborer was a blessing in disguise. "Through that, I was referred to DOLE, whose interventions were the building blocks of the blessings my family is now enjoying."  (Eva Visperas)
Share your Comments or Reactions
comments
Powered by Facebook Comments